Horse riding in Annecy is a sport that is practiced in high quality natural areas. You will discover the right criteria to choose the right riding school. There are several clubs for horse and pony riding in the region.
How to choose your riding school?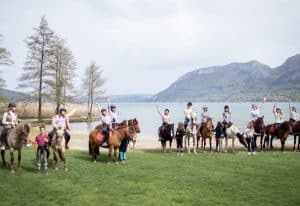 Do you want to learn to ride or change clubs?
We give you some advice on how to make the right choice and find a good atmosphere for regular progress.
First of all, you need to determine your objectives. If you are a beginner, choose an instructor who suits you. There is no substitute for a visit to a course to choose the right instructor. If you already know how to ride, you should choose a club that practices the disciplines you prefer: dressage, cross-country, show jumping, riding or trail riding. Similarly, find out if there are any opportunities to go out to competitions.
Then take time to visit the facilities. A riding arena and clubhouse may come in handy in case of rain or snow. Ask about the starting points for rides and take a look at the maintenance of the structure.
You should also consider the welfare of the animals: do they seem well fed? What is their behaviour? How much time do they spend in the pasture during the year? How many hours do they spend in a week?
If you are a beginner, it is important that an instructor or helper is there before the lesson to help you prepare the horse.
The atmosphere in the club should be pleasant. To make sure this is the case, take the time during your visit to talk to several riders. Also ask if the club frequently organises events (parties, barbecues, birthdays). This is a good indicator.
It is useful to take 2 or 3 trial lessons to validate your choice before signing up for a course. The number of participants per class should be limited to 8 so that the instructor has enough time for everyone.
Riding clubs near Annecy
There are several riding centres near Annecy. We suggest you discover the facilities that are close to the Annecy area.
The Annecy riding crop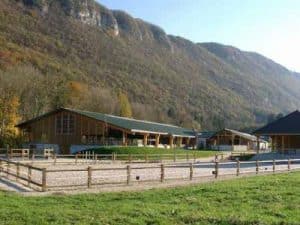 This is the historic club of Annecy. It used to be located in the centre of Annecy in the former Haras Nationaux. It is now located in Vovray, a district in the countryside, close to numerous paths for walks and hikes in the forest and fields. It is affiliated to the French Riding Federation and has the labels: French Riding School, French Horse Club and French Pony Club. The riding school offers various activities: initiation, improvement, competition, federal exams, weekly courses and horse boarding.
The facilities are complete:
A stable with 40 boxes
A riding school of 65 by 29 metres.
A 40 by 20 meter arena
A round pen
Cloakrooms, clubhouse and training area, a large car park.
We recommend this club for the quality of its teaching and the very good equipment.
Contact: Centre équestre du Moulin Rouge, "La Cravache d'Annecy", 150 Route de Vovray, 74000 Annecy. Tel: 04 50 45 32 38.
The Rampignon stables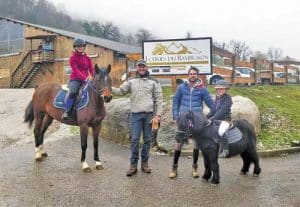 This equestrian centre is located at the foot of Mont Veyrier in Annecy-le-Vieux, 10 minutes from Annecy. The atmosphere is friendly and relaxed. Riders are welcome from 4 years old, from beginners to competitors. Lessons are offered as well as training courses over several days during the holidays. The proximity of the mountains allows for high quality rides on horseback or pony.
The facilities are of high quality:
An indoor stable with 45 boxes and an outdoor stable with 5 boxes.
A 40 by 20 metre arena.
Two riding arenas: 70 by 50 metres and 40 by 22 metres.
A commercial stable with 9 boxes.
Contact: Écuries du Rampignon, 7b allée Charles Peguy, 74940 Annecy-le-Vieux.
La Cavale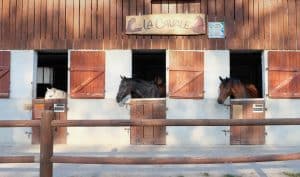 This club is located in Sevrier, a small town bordering Annecy, on the shores of Lake Annecy. Lessons are offered in baby pony from 3 years old, in pony for 5 to 9 years old, in double pony for teenagers and horses for all levels. Rides in the neighbouring Bauges massif are organised on a daily basis as well as 2-hour rides. Children can also come and celebrate their birthdays. Original, two-day hikes with bivouac are possible.
Contact: La Cavale, 695 Chemin des Communaux, 74320 Sévrier. Tel: 04 50 52 64 21.
The Pony Club of Chavanod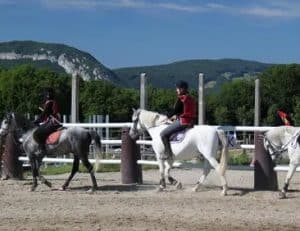 Located in the commune of Chavanod, 15 minutes from Annecy, this pony club is close to the Château de Montrottier. Various activities are offered such as show jumping, laser pony, pony games and baby pony from 2 years old. Courses are given as well as training courses according to your level.
Some courses, especially those for adults and more advanced levels, last 1.5 hours. It is the only club around Annecy offering this riding time and does not include the preparation time of the horses.
Theequestrian centre'sequipment:
Two stables
A riding school
A riding school
Contact: Poney Club de Chavanod, 351 Route Côte la Dame, 74650 Chavanod.
The stables of Chevaline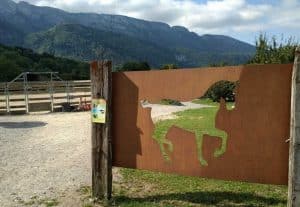 This riding centre was created in an agricultural farm. It offers horseback rides to discover the plains and forests of the commune of Chevaline. Located at the foot of the Charbon, the rides offer magnificent views of the lake. Horses can refresh themselves in the Ire and Eau Morte rivers.
Price: from 25 to 50 € per ride.Contact: Les écuries de Chevaline, 876 route de la Combe d'Ire, 74210 Chevaline.
More information on : Sports activities in Annecy
Video presentation of the club's facilities: La cravache d'Annecy