Lake Annecy is often a fairly calm body of water, with preserved natural areas such as its magnificent reed beds. Kayaking is an ideal sport to discover the richness of the shores and the sea bed.
Discover the fauna of Lake Annecy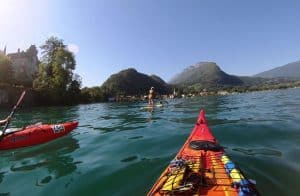 This ancient sport allows tourists and locals alike to navigate the lake without the need for lessons. In fact, all you need to do is know how to swim, get into the kayak, paddle and off you go.
For beginners, it is advisable to follow the shoreline and not go beyond the yellow buoys. This way you are in a quiet area where motor boats should move slowly. By sailing quietly and slowly, you will be able to see many fish such as perch and perch which are present on the shore of Lake Annecy. Birds can be seen near the harbours and reed beds. You can meet the green-necked duck, the coot (commonly called moorhen) and the swan.
White water kayaking on the rivers around Annecy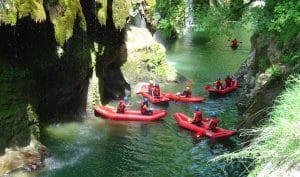 Annecy's kayak clubs enjoy two natural and remarkable playgrounds for the practice of this sport: the Fier and the Chéran. Just like a ski slope, you can go down many of the rivers in our mountains. This practice requires a good knowledge of the meteorological and hydrological conditions before an outing. The torrents of Haute-Savoie can change their flow in a few hours in case of storms or heavy rainfall.
A game of kayak polo on Lake Annecy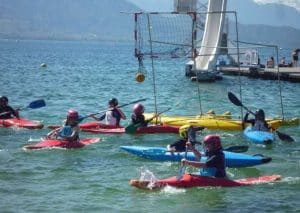 This new discipline makes kayaking fun. The ball carrier can be knocked down by the opposing team. The challenge is to turn the ball around in the shortest possible time. The kayak polo boats are shorter to make manoeuvring easier. The front tips are padded to avoid injury and the back of the kayak is flat to make a quick turn. The Annecy Canoe Kayak Club has two teams and holds a regional tournament at the Impérial beach as well as training on Tuesday and Thursday evenings at 6.30pm at the club.
Clubs and canoe kayak hire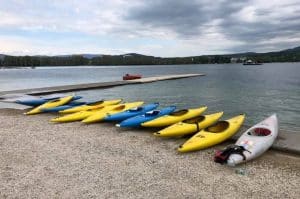 To do this sport, you will have to go through a club or a boat rental company. The Canoe Kayak Club of Annecy is ideally located near the Marquisats beach. If you live in Annecy, membership of the club is necessary to be able to participate in the various activities.
And if you are here for a few days, the club offers a temporary membership valid for a few hours. The equipment is provided by the sports structure and you will benefit from the advice of the staff just before your departure.
Registration is possible from the beginning of July.
The club also offers summer courses for children aged 7 to 14, an ideal way to become independent and to progress in the practice of this sport.
You can also rent a kayak on the lake, but curiously enough, you have to go to campsites and bike rental companies.
The boats offered are three-seater kayaks: two adults and one child. Don't forget to keep your personal belongings (papers, money and telephone) dry in the tank provided.
Prices are modest, 10 € for one hour.
For safety reasons, life jackets are compulsory.
Don't forget something to drink, sun cream (as the sun is very strong with the reverberation) and something to change into when you return.
If the wind is strong, you should get back to shore quickly, as you can drift quite far with a kayak.
Here are a few canoeing clubs where you can practice among enthusiasts:
Canoë kayak club d'Annecy: Base Nautique des Marquisats, 33 rue des Marquisats, 74000 ANNECY – Tel : 04 50 45 03 98
Canoë Kayak Club de Sevrier : Base nautique, Route du Port, 74 320 Sévrier – Tel : 04 50 52 40 04
UNCA-Voile: 29 avenue du Petit Port, 74940 Annecy-le-Vieux – Tel : 06 78 35 83 42
Club Nautique de Doussard: 120 route de la Plage, 74210 Doussard – Tel : 04 50 44 81 45
You can also tryrowing which is a similar water sport. There are many clubs where you can practice according to your level, from initiation to competition.
Video of canoeing competitions on Lake Annecy