The Marquisats beach is located at the exit of Annecy in the direction of St Jorioz, Sévrier, Faverges and Albertville, 500 metres from the town centre. It is accessible by bus via line 6, a stop is located just opposite the beach.
Geographical location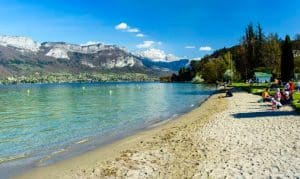 The Marquisats beach is a stretch of grass about 20 metres wide and 200 metres long. It is bordered by a sandbank of a few metres which will delight the little Annéciens! The bottom of the water is covered with pebbles. The depth increases quite quickly. This beach is with the beach of Albigny one of the only free beaches in Annecy.
Annecy-ville.fr's plus:
This beach is very pleasant in summer, as it is shaded, and therefore particularly suitable for young people. However, the lake quickly becomes deep after a few metres from the shore. Parking is quickly saturated, we recommend coming by bus, bike or on foot and preferring the morning to have space on the beach. The proximity of the Old Town of Annecy allows you to enjoy a good ice cream while visiting the site.
Equipment of the Marquisats beach
Snack bar in the summer season
Free public toilets
Free parking
Supervision during the summer in July/August from 10 am to 7 pm
Floating wheelchairs to facilitate entry into the water for PRMs
The surroundings of the Marquisats beach
Address: Rue des Marquisats, 74000 Annecy