Annecy is a city with many cycle paths and cycle routes. The tour of Lake Annecy is for many the most beautiful cycle path in France.
By bike: a wide range of cycle paths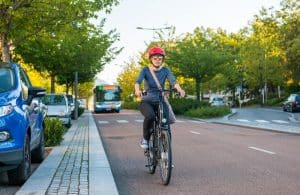 Cycling, like scooters and rollerblades, is a "soft" mode of transport which, as it is non-motorised, allows physical activity and helps to reduce air pollution. The Greater Annecy area has a network of 132 km of cycling facilities. By 2030, the local authorities plan to double this figure. 50% of urban journeys in Annecy are less than 3 km long, so cycling is very practical for avoiding traffic jams. These 3 km can be done in less than 15 minutes, allowing you to remain in good physical condition.
In the city centre, there are three types of cycling facilities:
Independent of the roadway: cycle track, green lane around Lake Annecy and pathway.
On the roadway: cycle lane, meeting zone, two-way cycle lane and shared bus lane.
On a pedestrian area where cyclists must keep to a walking pace.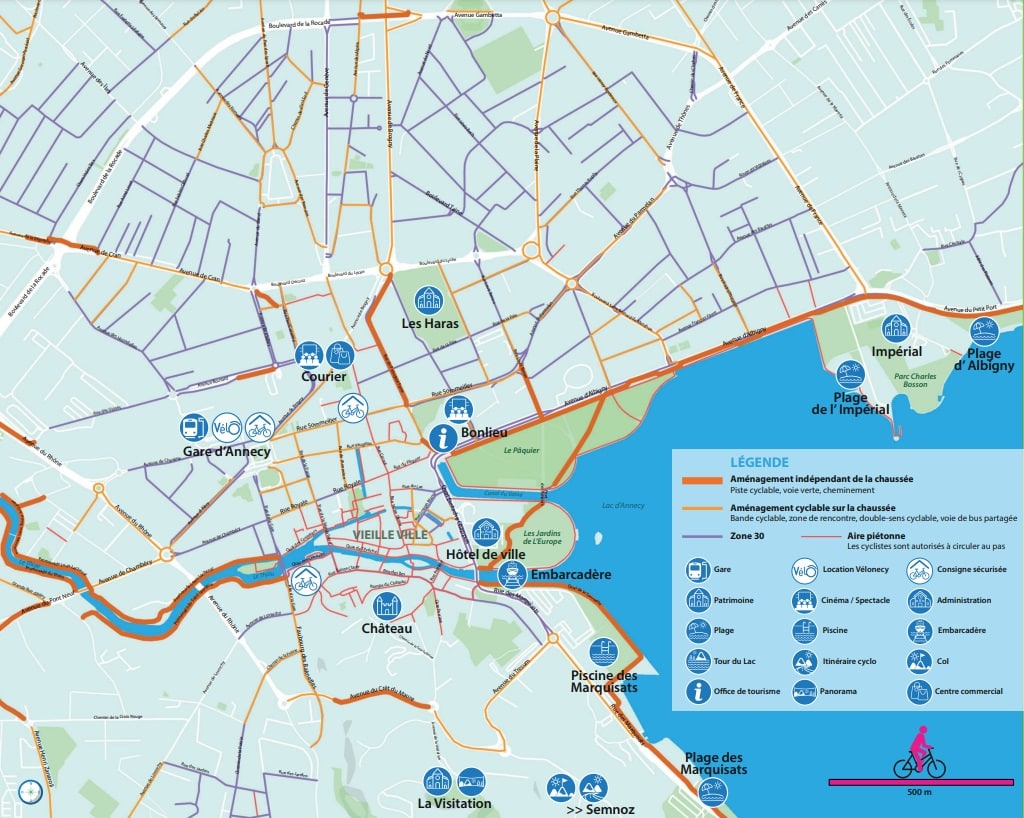 Throughout the Annecy area, which includes the city of Annecy, neighbouring towns, the area around the lake and the business parks, the cycling network is well developed and makes it easy to get around by bike for leisure purposes, but also to get to work. The map below shows you the types of cycling facilities and the journey times from one point to another.
To zoom in on the parts of the maps that interest you, you can consult the PDF document of the cycling developments carried out by Greater Annecy.
To cycle around Lake Annecy, you will need between 1 and 2 hours and 30 minutes to cover the 36 km of this loop, which offers magnificent panoramas between the lake and the mountains. There are many bike, mountain bike and VAE rental offers available if you come to spend your holidays in Haute-Savoie. Automated Vélonecy stations allow you to rent a VAE throughout the Greater Annecy area.
Little-known cycling facilities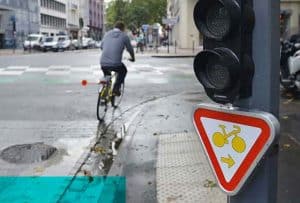 In Annecy, cyclists benefit from facilities on the roads to make cycling easier and safer, which are often unknown, although very practical. Wearing a helmet is not compulsory but is recommended to ensure your safety.
The bicycle lock: This space is located at traffic light junctions. It is marked by two broken lines and a "bicycle" pictogram. Cyclists place themselves in front of cars to make left turns easier, to be better seen and to avoid breathing exhaust fumes.
Two-way cycling: some traffic lanes are one-way for cars and bicycles can travel in both directions and thus use many shortcuts. This system is reserved for 30 km/h zones and mixed traffic zones.
The cycle yield sign: this sign allows bicycles to pass through a red light in the direction indicated by the arrow while giving way to other users. Only traffic lights equipped with this sign are concerned.
Door overlay: a 50 cm space can be created between the parking area and the cycle lane. It protects cyclists from the unexpected opening of car doors.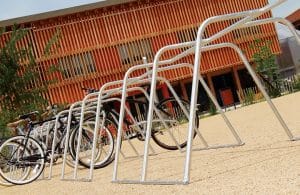 Bicycle thefts are frequent in Annecy. The bicycle frame and front wheel must be secured to a fixed point. Marking the bike with a unique number also helps to prevent theft. Many bicycle locks are installed throughout the city, allowing you to securely fasten your bicycle with its lock.
One last piece of advice: bicycles are not allowed on the pavements, except for children under 8 years old.