Cycling is king in Annecy with dozens of kilometres of cycle paths. Cycling around the lake allows you to discover a unique natural setting. How to rent a bike in Annecy?
Vélonecy: a public bike hire service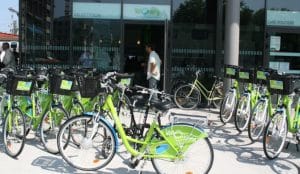 There are many bicycle rental companies in the Annecy area. At the same time, the Greater Annecy agglomeration community offers an accessible public rental service called Vélonecy. This rental fleet has 600 city bikes, 200 electrically assisted bikes and folding bikes. During the summer, 40 electrically assisted Vélonecy rental stations are available throughout the Annecy conurbation.
Prices: from 4 to 46 € per day depending on the model and the rental period (day, week, month or year). Reservations can be made by calling 04 50 51 38 90.Address: Halle multimodale de la gare d'Annecy, place de la Gare, 74 000 Annecy.Opening hours: all year round, Monday to Saturday, 9 am to 1 pm and 2 pm to 6.30 pm.
Financial assistance for the inhabitants of Greater Annecy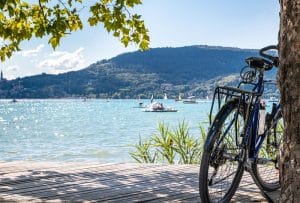 The Greater Annecy agglomeration community has introduced financial aid to enable you to purchase an urban bicycle. This aid varies according to your income and applies to all new and second-hand bikes. For example, for an electrically assisted bicycle, the amount of aid ranges from €200 to €600.
The application must be collected from the Grand Annecy and the bike must be purchased in a partner shop (not on the internet).
The different private bike rental companies in Annecy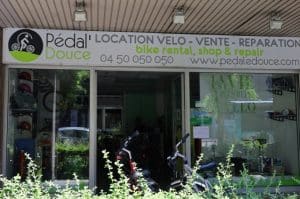 The most pleasant way to discover Annecy is by bike. The town is relatively flat, which makes it easy for the whole family to get around. There are many bike lanes where you can park your bike. Some one-way streets for cars can be cycled in the opposite direction. Some traffic lights are equipped with a traffic sign that allows bicycles to turn right.
Bike hire in Annecy also allows you to go mountain biking, either for hiking, downhill or circuit biking. To help you get back into shape and resume cycling, you can hire an electrically-assisted bike, which can easily be used to cycle around the lake.
The main bike rental companies:
Takamaka Annecy: 23 Faubourg Sainte-Claire, 74000 Annecy – Tel : 04 50 45 60 61
Roul' ma poule: 4 Rue des Marquisats, 74000 Annecy – Tel : 04 50 27 86 83
Pédal' Douce Annecy: 2 Rue Jean Jaurès, 74000 Annecy – Tel : 04 50 05 00 50
Cyclable Annecy Location: 8 Place aux Bois, 74000 Annecy – Tel : 04 56 73 97 71 and 13 rue de la Préfecture, 74 000 Annecy – Tel : 04 50 65 09 09
E-Rider Annecy: 9 avenue du Rhône, 74 000 Annecy – Tel: 04 56 34 83 31
ASPTT Annecy: 1 Allée des Cyclades, 74960 Annecy – Tel : 04 50 66 11 55
Nomad Bike: 228 route du Ponton, 74 290 Talloires – Tel : 06 37 16 13 84