Karting is a mechanical sport that is open to everyone. The initiation is fast and you will progress quickly to challenge your friends. We offer you some driving tips and then discover the karting circuits near Annecy.
Karting: tips for good driving
Karting is a leisure activity but it is also a mechanical sport. You can practice it without any particular knowledge but some advice will allow you to position yourself well to try to win the races.
Follow a good racing line: You should reduce your speed before entering the corner and start to accelerate again just before exiting the corner.
Don't hit the edge of the track: It is better to reduce your pace than to hit a ledge that will cost you precious seconds. Permanent sprinting is not the right solution, you need to optimise your time.
Braking: It is preferable to brake gently to avoid slowing down the kart too much, and braking too hard can cause you to lose control of the car.
Master the clutch: This will allow you to adapt the acceleration for thermal karts and the braking by changing gears more quickly.
Good position in the kart: By positioning your body mass correctly, you will put your weight on the outside of the corner to improve grip. If you skid too easily, you need to back off to balance your weight. It is essential to relax your body to avoid tensing up and hold on for the whole ride.
Watch and listen: Learn to read the trajectory of the drivers in front of you, ask the instructors at the centre for advice, they are often FFSA licensed and therefore very experienced.
Karting circuits near Annecy
You will find three main karting circuits near Annecy: tour of the tracks!
Rumilly Karting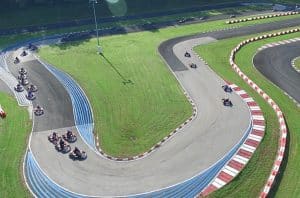 Located in the leisure centre of Rumilly, 20 minutes from Annecy, just before Aix-les-Bains, this centre offers two tracks: 550 m and 1 150 m. The 550m track is equipped with 160cc and 270cc karts. The large track has 270 cc and 14 HP karts. The minimum age is 7 years for the 160 cc with a minimum height of 130 cm. Different formulas are available to welcome groups for a birthday, a challenge or a driving course. The Charles Germain driving school has been named"Best driving school in France" three times. It is affiliated to the FFSA Karting.
For companies, the Rumilly karting school organises seminars and team building with a large reception capacity: fleet of 100 karts, showers, changing rooms, meeting rooms and catering facilities.
Address: Base de loisirs de Rumilly, 74150 Rumilly. Open from Wednesday to Sunday, from 9am to 12pm and from 2pm to 7pm, and 7 days a week during the school holidays, except in winter.
The Kart Parc of Thônes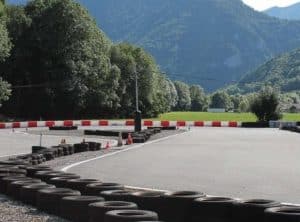 The circuit is just outside Thônes, on the way to La Clusaz, 20 minutes from Annecy. The track consists of a 876m loop in the Aravis mountains. Prices are sliding scale, children are welcome from 10 years old. Stag and hen parties, birthdays and all groups are welcome. A refreshment bar is available.
Address: Lieu dit La Cour, 74230 Thônes.
Urban Kart'in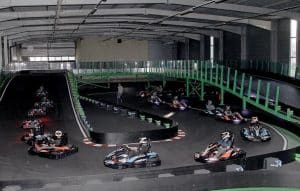 This karting site is 100% electric, indoor with a 350 m track with a bridge and tunnel. It is located in the commune of La Roche-sur-Foron, 20 minutes from Annecy and offers 18 adult karts and 6 children's karts. The power of the electric is felt from the first acceleration and you can engage a 30 second boost to increase the vehicle's performance. Children are welcome from the age of 7. The go-karts offer 4 speed levels depending on your experience and expectations. For families and groups, a 230 m² air-conditioned reception bar organises hot and cold buffets and post-Grand Prix aperitifs. Companies have a meeting room and the complex can be privatised.
Address: 389 rue Ingénieur Sansoube, 74800 La Roche-sur-Foron.
The different categories of karting competition
This sport is very structured and allows you to progress according to your level in the following categories:
The 5 international categories which are reserved for experienced drivers.
The 5 federal categories: mini-kart (from 7 to 9 years old), minimes (from 10 to 12 years old), cadets (from 12 to 14 years old), Nationale (from 15 years old) and KZ125.
The non-federal categories, which are competitions managed by the brands and karting professionals: Rotax, Formula FFSA and X30.
Video of the French karting schools meeting in Rumilly
We wish you nice races to share.