Rumilly is a small town in the Haute-Savoie region of France, located about 20 km south of Annecy, and is the capital of the Albanais region! At an altitude of about 400 metres. The town of Rumilly is inhabited by about 15,000 Rumillian men and women and covers an area of 1,689 hectares.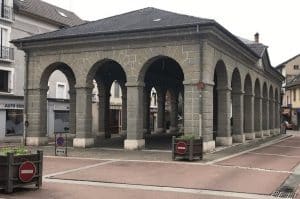 Rumilly is part of the arrondissement of Annecy and the canton of Rumilly and isone of the ten largest towns in Haute-Savoie. It has three rivers, the Fier, the Néphaz and the Chéran, as well as a lake, the Plan d'Eau des Pérouses, where the go-karting circuitis located .Rumilly is a small but active town with more than 250 shops in the town centre and on the outskirts with several shopping areas. Large companies are located in Rumilly and have made it one of their strong points of production: Téfal, Salomon and Nestlé.
History and heritage
Rumilly Museum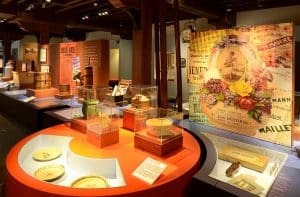 This site traces the history of the town and its inhabitants. Temporary exhibitions, workshops and activities such as the "museum escape game" are very popular.
Address: 5 place de la manufacture, 74150 Rumilly.
The Bernardines Chapel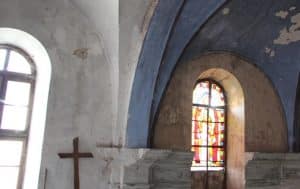 This historical monument was acquired by the town. The chapel is a reminder of the important role played by this order in the history of the town.
Rue des Remparts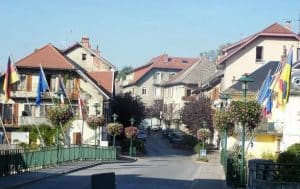 This old street overlooks the river Néphaz where two rows of walls protected the town in the Middle Ages from outside attacks.
Must-see tourist sites near Rumilly
Thanks to its central position, Rumilly allows you to visit four tourist sites that are worth a visit:
The best rated hotels
Depending on your budget, we have selected two hotels in Rumilly that offer excellent value for money and have very good customer reviews:
Couett' Hôtel Rumilly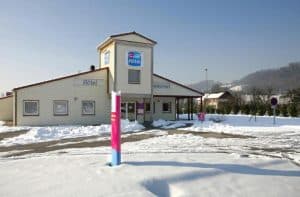 Conveniently located 3 minutes from the train station, this hotel has beautiful, well-equipped rooms. The castles of Clermont and Montrottier are great outings to discover the region. The Savoie-Grand-Revard ski resort is 37 km away.
Prices start at € 69 per night.
Domitys Les Deux Lacs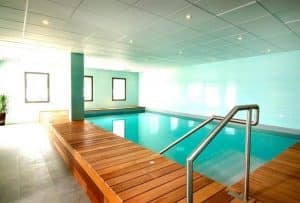 Indoor swimming pool, quality catering, gym and library for this senior residence open to all. Calm and cleanliness are a must. The train station is located 250 metres away, which is very practical for business trips.
From 99 € per night.
The llamas and saffron of Salagine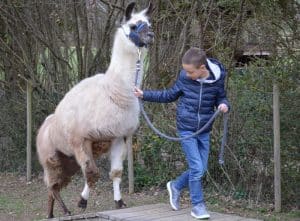 This outing allows you to discover, a few kilometres from Rumilly, llamas in the nature and the saffron culture. The children will be able to stroke and brush the llamas. Obstacle courses and a walk towards the Crosagny ponds are proposed. We advise you to bring a pair of binoculars to observe the fauna and flora of the ponds.
A presentation of saffron cultivation, saffron products and tastings are possible.Address: 754 route du Grand Salagine, 74150 Bloye.
The Bridge of the Abyss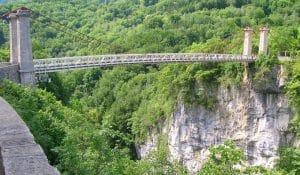 This bridge links two small villages, Cusy and Gruffy in Haute-Savoie. It was built in 1887 by the engineer Baudin. This metal suspension bridge is 64 m long. It overlooks the Chéran river from a height of 96 m. Visitors have a bird's eye view of the chaos of the Chéran.
A walk allows you to visit the site by parking on the Cusy side. The start is at the foot of the sign, crossing the bridge and walking upwards for 500 m in the direction of Gruffy. You go down to the river bed to admire the chaos. The return journey is through the forest and along the meadows. Orchids grow in the grass in this area. Picnic tables are available. Then the final climb takes you back to your starting point.
Cultural and sports facilities
Numerous and quality cultural facilities
The town of Rumilly offers various quality cultural facilities:
The Quai des Arts auditorium: This auditorium has a very varied and high quality programme each year, which is aimed at all ages and all audiences: music, young audiences, theatre, dance, circus. Address: Place d'armes, 74150 Rumilly.
The municipal school of music, dance and theatre of Rumilly: This school allows its pupils to receive a complete artistic teaching, from musical awakening to confirmed amateur practice. The following dances are on the programme: classical, modern music, contemporary, jazz. Address: Maison de l'Albanais, Rue de l'annexion, 74150 Rumilly.
The Quai des Arts media library: located in the same place as the Quai des Arts hall, you can read and borrow a large number of books.
Cinema : Les lumières de la ville. This cinema complex has 3 cinemas with 516 seats. An interesting approach: the town owns the cinema and has it run by a private company. Art and experimental films, for children, but also for the general public, are screened. Address: 18 avenue Roosevelt, 74150 Rumilly.
School education includes: 4 nursery schools, 4 primary schools (one of which is private), 2 secondary schools and 4 high schools (two of which are professional).
Where to do sport in Rumilly?
The municipal swimming pool: is a sports, leisure and family area open in summer from 1ᵉʳ July to 30 September. The equipment includes: two pools, a paddling pool, solariums, games for children, ping-pong, voley-ball, a bar restaurant and picnic areas, swimming and aqua gym classes are provided. Address: 23 rue de Michelstadt 74150 Rumilly.
La base de loisirs du Plan d'Eau: this is an emblematic site of life in Rumilly which offers: a cycle path, a supervised sandy beach, children's play areas, a vitality area and fishing areas.
Two leisure centres welcome children from 3 to 10 years old: La Mosaïque (Rue Pierre Salteur) and the Do'minos (Avenue Roosevelt).
Education
The school system includes: 4 nursery schools, 4 primary schools including one private school, 2 secondary schools and 4 high schools including two professional schools.
Markets in Rumilly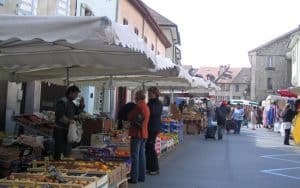 There are two markets in Rumilly every week, offering quality products. Cheeses are in the spotlight, with many local specialities, such as the creamy Reblochon.
On Thursdays from 8 am to 12.30 pm, a food and clothing market with 40 traders is held on the Place de l'Hôtel de Ville and under the Grenette.
On Saturdays from 8 am to 12.30 pm, a farmers' market is held under the Grenette.
The local car parks are free with disc parking.
Public transport
The Rumilly agglomeration offers a complete range of public transport with 40 bus stops:
Three bus lines connect the main sites of the town, the station is the place of various connections.
Five mini-bus lines with 28 seats serve two lines from Monday to Saturday from 6.30 am to 8 pm. A third line can be used on request.
Fare: Book of 10 adult tickets for 7.5 € and book of 10 youth and senior tickets for 5 €. You can consult the routes and schedules in real time.
A car-sharing service called "Cityz" is available with two cars for hire on the Place de la Manufacture.
Town Hall
The Rumilly Town Hall is open from Monday to Thursday from 8.30am to 12pm and from 1.30pm to 5.30pm and on Friday from 8.30am to 12pm and from 1.30pm to 4.30pm. Address: Place de l'Hôtel de Ville, BP 100, 74152 Rumilly cedex. Official website: Mairie de Rumilly.
Tourist Office: www.rumilly-tourisme.com
Communauté de communes de Rumilly : www.cc-canton-rumilly.fr
To ski in the area