Crossfit is a sport that has developed widely in recent years. It consists of group training, according to a programme prepared in advance. We suggest you discover what the crossfit sessions consist of and present the gyms present in Annecy.
How does Crossfit work and techniques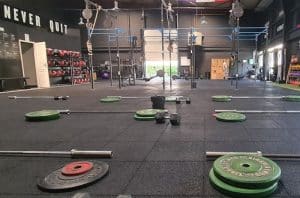 Crossfit was invented in the United States in the 1990s by Greg Glassman. It is also called crosstraining. It is about making an intense effort, in a group, by soliciting the cardio-vascular part and the muscular part. Firefighters and law enforcement officers use this technique to increase their physical strength and resistance.
Dumbbells, large boxes, straps, pull-up bars are used. Other accessories can be chosen, depending on the coach and the gym. The efforts are sustained and the recovery time is low. The movements follow one another: you have to pull, lift, push and jump.
Everything starts with a warm-up adapted to the day's session. Then it's the WOD (workout of the day). The coach encourages all participants in this training. In order to keep everyone on track, it is important to create a feeling of belonging to a group.
Each crossfit session includes a specific list of exercises to be performed, forexample: 15 jumps on a big box, 10 weighted lunges, 20 swings and 80 rounds of jumping rope. Needless to say, the muscles are firing at the end of the session! However, the friendliness and strength of the group will keep you going throughout the workout.
For those who are used to it, there are challenges to push your limits by timing yourself.
How to dress? You need to be comfortable in your movements and have a good pair of fitness shoes that hold your feet well. Loose shoulders, shorts or leggings are preferable.
Where to practice Crossfit in Annecy ?
This sport, which is very popular in the United States, is coming to France in force. A crossfit gym called Box is opening every day in our country.
Here are the crossfit gyms available in Annecy:
CrossFit Annecy, 287 Route des Creuses, 74600 Seynod
CrossFit Annecy 2, 250 Route d'Argonay, 74370 Pringy
CrossFit L'Engrenage, 1 Chemin de Viré Moulin, 74940 Annecy
Oski Crossfit, 130 impasse des Lys, 74330 Épagny Metz-Tessy
The prices of these crossfit boxes vary from one gym to another. The first session, for discovery, is always free. After that, you should expect to pay between 79 and 109 € per month, depending on the number of sessions per week and the duration of the subscription.
Video of a crossfit gym in Annecy
The gyms in Annecy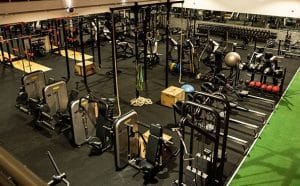 Annecy is a sporty town and there are many gyms to maintain your physical condition. They will also allow you to prepare for the winter season and downhill skiing. Have you decided to take the plunge? It's a very good decision. But how do you choose your gym? What are the criteria to take into account?
What should you take into account when choosing a gym?
Rates and conditions of registration and cancellation: it is important to compare, because it is a significant financial investment. Remember to take advantage of promotional periods. Choose a registration period that suits you and a formula that can be easily cancelled.
The location of the gym: the gym must be close to your home and work to keep you motivated to go there easily.
The profile of the members and the atmosphere: choose a gym that corresponds to your expectations as a sportsman and with members who are like you.
The opening hours : they must correspond to your availability. The gyms are generally open for long hours.
The activities offered and the paid services in addition: whether you are a pilates, weight training, fitness or crossfit trainer, your gym must offer you what you are looking for in terms of sports practices.
The equipment: cardio, weight training and group classes are part of the programme of any self-respecting gym.
The level of coaching: it must be adapted to your personal level. If you are used to gyms, there is no need for high-end personalised coaching.
Cleanliness, comfort and maintenance: this is an essential criterion for appreciating your gym, even more so since the Covid-19 epidemic.
During the health crisis, gyms were closed. They therefore had to rethink the way they operated, in particular by broadcasting online classes and videos to enable their members to continue practising regular physical activity. Muscle strengthening, pilates, garuda and cardio are all part of the programmes offered by the gyms in Annecy.
Annecy's sports and crossfit gyms
There are many sports and crossfit gyms in the Annecy area. We suggest you discover them.
In Annecy
| Olness' | 46 avenue de Novel - 74000 Annecy | 04.50.63.43.92 |
| --- | --- | --- |
| Amazonia | 11 rue de la Mandallaz - 74000 Annecy | 04.50.51.66.69 |
| Sensorell | 1 rue Guillaume Fichet - 74000 Annecy | 04.50.63.10.10 |
| CrossFit l'Engrenage | 1 chemin de Viré Moulin - 74000 Annecy | 04.50.08.88.90 |
| L'Appart Fitness | 11 avenue de la Mandallaz - 74000 Annecy | 04.50.51.66.69 |
| MyFit | 12 faubourg des Balmettes - 74000 Annecy | 04.50.63.01.32 |
| BodyHit | 36 rue Sommeiller -74000 Annecy | 04.50.11.52.80 |
| ChronoFit | 4 allée Marie Paradis - 74000 Annecy | 09.70.98.89.87 |
| BodyHit Annecy Centre | 36 rue Sommeiller - 74000 Annecy | 04.50.11.52.80 |
Around Annecy
| CrossFit Annecy | 250 route d'Argonay - 74370 Pringy | 06.61.56.28.82 |
| --- | --- | --- |
| KeepCool Annecy | 9 Avenue d'Aix-les-Bains - 74600 Seynod | 04.50.05.24.27 |
| On Air Annecy | 153 Avenue d'Aix-les-Bains - 74600 Seynod | 04.50.51.49.57 |
| RM Club Annecy | 90 chemin des Prés Bouvaud - 74600 Seynod | 04.50.09.43.29 |
| Basic Fit | Boulevard Costa de Beauregard - 74600 Seynod | 03.66.33.33.44 |
| CrossFit Altaïs | 287 route des Creuses - 74600 Seynod | 06.69.02.90.41 |
| Up2You | 10 rue du Square - 74960 Cran-Gevrier | 04.50.67.43.19 |
| My Fitness Club | 31 impasse du Fier - 74370 Metz-Tessy | 04.50.60.21.60 |
| RITM Épagny | 55 rue de l'Artisanat - 74330 Épagny Metz-Tessy | 04.50.24.25.56 |
| Fitness Park | 124 rue des Roseaux - 74330 Épagny Metz-Tessy | 04.80.48.06.4 |
| Oski CrossFit | 130 impasse des Lys - 74330 Épagny Metz-Tessy | 06.62.94.96.52 |