Snowshoeing has become the second most popular winter sport in France with over two million people practising it. It is aimed at sportsmen who prefer walking to sliding. The Annecy region, surrounded by beautiful mountain ranges, offers beautiful snowshoeing trips. We offer you some advice to practice this sport.
Snowshoeing for everyone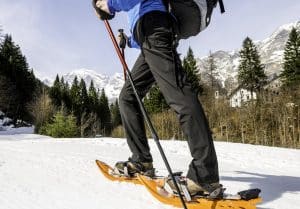 There are several positive aspects to snowshoeing. You will discover the nature in winter which gradually wakes up. It is common to observe the tracks of the fauna of Haute-Savoie: wild boar, deer, fallow deer, rabbits and birds and if you encounter a wild animal, follow our advice.
Snowshoeing is the best way in winter to get close to the wild animals of Haute-Savoie. You can also see the first flowers at the end of winter.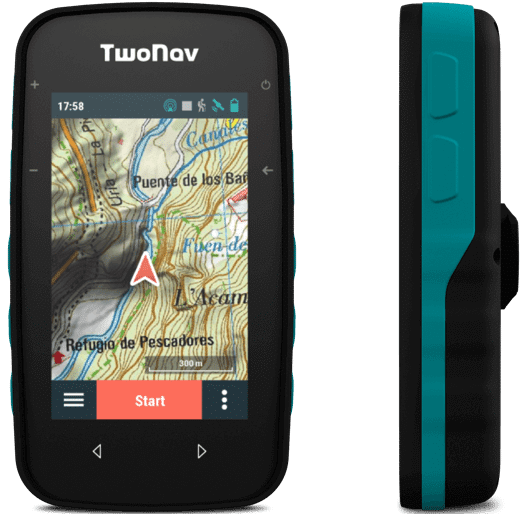 Snowshoeing is a very complete sport at the muscular level. You'll also be using your arms as you're equipped with poles.
Many routes close to the cross-country ski resorts are marked out. You can also ask for maps to have visual reference points during your excursions. Depending on your wishes, you can prefer a quiet walk with your family on the flat plateaus or choose steep slopes for a more sportive practice.
In the commune of Thônes in Haute-Savoie, 20 km from Annecy, the TSL company produces snowshoes. It is the world leader in this type of equipment with 1,000 pairs produced daily. During the period of the coronavirus health crisis, snowshoe production rose to 10,000 pairs per day. Sales to the US and Canada increased sevenfold during this period.
These figures confirm that the preferences of winter sports enthusiasts are changing. They want to get closer to nature by reducing their carbon footprint. This sport is respectful of the fauna and flora of the Alpine massifs because it does not require artificial infrastructures to be able to practice it. It is therefore an ecological and sustainable way to enjoy winter sports.
Where can I go snowshoeing near Annecy?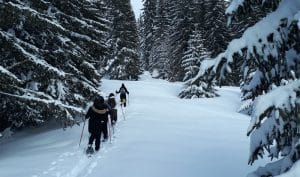 You should choose rather flat areas for a family practice. It is not necessary to practice in high mountains, a simple layer of snow is very pleasant for a successful hike. You can get maps of snowshoeing excursions from the tourist offices of the ski resorts.
The summit of Semnoz, offers hilly areas alternating between pastures and forest.
The Glières plateau is a remarkable site, with a possible visit to the Glières Monument, a major site of the Resistance.
The Beauregard plateau, which has vast, fairly flat and sunny areas.
The Confins, above the resort of La Clusaz, with slightly steeper routes.
A snowshoeing trip on the Beauregard plateau in Haute-Savoie
Snowshoeing adventures near Annecy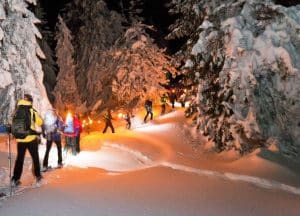 Several companies in Annecy offer snowshoeing adventures with a guide. The advantage of these guided outings is that you benefit from the advice of a professional for an unforgettable hike. It is the ideal formula if you are on holiday for a while in Annecy. There are different formats to suit your tastes.
A half-day initiation around Annecy: A short time to get into the swing of things.
A day snowshoeing around Anne cy: the ideal format to enjoy a nice hike.
A snowshoe hike in La Clusaz: a more sportive outing in a hilly landscape.
A snowshoeing aperitif at suns et : a good moment to share with friends.
A snowshoeing outing at sunset in Semnoz: the ideal moment to appreciate the magnificent panorama at the top of Semnoz.
A night walk with headlamps under the full moon. The excursion ends in a mountain restaurant or refuge to enjoy a good meal based on Haute-Savoie culinary specialities.
A snowshoeing trip to discover the fauna, flora and pastoralism. This formula is well suited to family outings and is an excellent introduction to this sport.
Snowshoeing clubs in Annecy
Snowshoeing is best done in clubs affiliated to the French Ski Federation, their federal instructors will supervise you safely. The following clubs are experienced and close to Annecy:
Gums Annecy : Polyèdre, 4 Impasse St Jean, 74600 Seynod
Club Alpin Français d'Annecy : 17 Rue du Mont Blanc, 74000 Annecy
Les Randos Free : 11 bis rue du Docteur Geley, 74000 Annecy
Les Randonneur de la Cha : 93 place de l'église, 74230 Dingy Saint-Clair
Snowshoeing equipment
Appropriate equipment is required:
a pair of snowshoes with two sticks,
warm, light and airy clothes,
Gaiters are useful in case of deep powder.
You can buy the snowshoes, it is an inexpensive piece of equipment or consider renting them for a few euros.
Important: This sport is easy and enjoyable, but always check the weather conditions and follow an existing route. And you should never go alone and always tell your friends and family about your route.
Where to rent snowshoes in Annecy?
Renting is practical, it allows you to see if this sport suits you, and to try out brands of snowshoes such as TSL or Decathlon. Renting also allows you to travel with less luggage if you come by train or plane.
Ski Loc Shop: 78 bis route des Creuses in 74960 Cran-Gevrier
Intersport: Rue de la Tuilerie, 74330 Épagny Metz-Tessy
Where to buy snowshoes near Annecy?
Buying snowshoes is a good choice if you practice regularly. This equipment is not expensive and you can also buy second-hand snowshoes. There are many shops selling snowshoes in Annecy:
SnowLeader Annecy: 15 Rue Président Favre, 74000 Annecy
Go Sport Annecy Bonlieu: 1 Rue Jean Jaurès, 74000 Annecy
Decathlon Seynod: La Galerie Val Semnoz, Avenue d'Aix-les-Bains, 74600 Seynod
Decathlon Epagny: Chemin des Perdrix, 74330 Poisy
Intersport Epagny: Rue de la Tuilerie, 74330 Épagny Metz-Tessy
Also discover : Cross-country skiing near Annecy