Renting a pedal boat on the shores of Lake Annecy is a classic summer holiday. It is also an opportunity to swim in front of the Pâquier lawn, Annecy's emblematic esplanade. You can also rent motorboats to avoid pedalling.
Pedal boat hire on Lake Annecy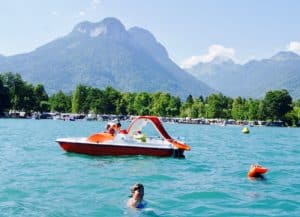 There are many pedal boat rental companies on Lake Annecy. But first you have to choose between the different models of pedal boats from 2 to 6 seats. We recommend you to take the slide option if you have children. In order to enjoy your trip, you need to rent at least one hour. Because the ship is not very fast, and by the time you leave the pontoon, take a ride and return to the harbour, a good hour will have passed.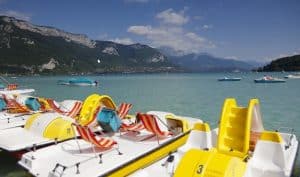 The pedal boat is rented with life jackets but no anchor, so it will drift especially if the weather is windy. So if you are swimming, you should stay close to the pedalo. Pedal boat hire companies are open from spring until the end of September. Don't forget to take an identity card, which will be requested as a deposit during the rental period. Otherwise, car keys can be accepted. During the busy summer months, all the pedal boats are often rented on the Pâquier in Annecy. We advise you to book your ride and wait in the shade on the benches of the Avenue d'Albigny.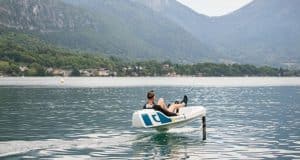 Since 2021, a start-up from Annecy has developed a foil pedal boat which is available for hire. This revolutionary pedalo can reach 12 km/h, which is three times faster than a conventional pedalo. It embarks only one person who, without any major effort, allows the boat to leave the water thanks to the foil. The performance of the JetCycle Max extends the discovery perimeter of Lake Annecy in one hour of rental.
Rent a motor boat on Lake Annecy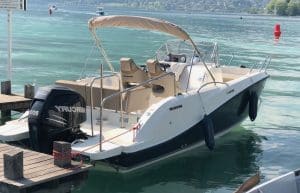 Pedal boat rental companies also offer two categories of motorboats. Motorboats without a licence, with a reduced speed, but which allow you to go from one side of the lake to the other. And speedboats, which require a licence. They are much faster but also much more expensive.
You have to respect the regulations of navigation on Lake Annecy: reduced speed on the lake shore and prohibition to navigate in the reed beds and the reserve of the end of the lake among others.
Where to hire a pedalo or speedboat on Lake Annecy
There are many places to hire a boat on Lake Annecy. But in summer, you often have to wait because the pedal boats are all rented out. Here is a list of rental sites around Lake Anne cy:
The sun's reflection on the water can cause sunburn, so don't forget sun cream, glasses and a cap. Other water sports are often offered by these rental companies such as paddle, water skiing and wake-boarding.