The municipal beach of Menthon-Saint-Bernard is a paying beach in July and August. It is located about a hundred metres from the edge of Lake Annecy.
Free or paying beach depending on the season
The beach is open free of charge every day of the year and is chargeable in July and August from 10 am to 6 pm. It extends for about 200 metres along the right bank of Lake Annecy. Several lifeguards are on duty.
Free facilities and parking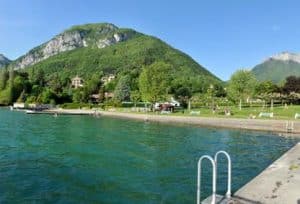 Between concrete and grass, the Menthon-Saint-Bernard beach has a diving board, a paddling pool and several pontoons. It is very well equipped with toilets and showers. The beach also has free parking as well as a snack bar and sports fields. The sailing school offers water sports activities such as kayaking, catamaran, paddle and optimist.
To the left of the beach, a beautiful lakeside promenade leads along the harbour to the Palace de Menthon. This hotel facility offers well known restaurants.
Rates
Free for children under 4 years old and from 5.45 pm (without supervision). Adult entrance: 2.60 €, child entrance 1.20 €. 10-entry card for adults: €22.50, 10-entry card for children: €10.
Address and contact
Plage municipale de Menthon-Saint-BernardRoute de la plage 74290 Menthon-Saint-Bernard Tel : 04.50.60.12.88 Fax : 04.50.60.07.60More information : Menthon Saint Bernard