Located on the edge of the national road, the Duingt beach is grassy and slopes gently down to Lake Annecy.
The beach equipment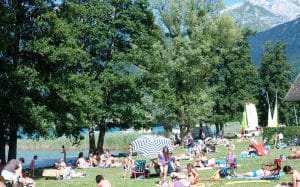 The equipment consists of wooden benches facing the lake. Large trees provide shade during the summer season. Swimming is permitted up to the buoys, beyond which it is the domain of the boats. The municipal beach is free and unsupervised. To eat, a pleasant guinguette "La Petite Fringale" is located on the edge of the lake. It is open from May to September.
Annecy-ville.fr's plus
This beach offers a winter swimming club called "Les Lacustres". Meetings take place on Mondays and Saturdays at 11am at the Bay of Sails. Medical certificate required. The water temperature is around 4°C for the most courageous. Information on Les lacustres
The cycle track passes near the beach of Duingt, it is a pleasant stop to refresh and to picnic if you make the tour of the lake by bike.
Important
After a few metres in the water, the lake in Duingt quickly becomes quite deep. You should therefore keep a close eye on the children yourself.
Address: Allée de la Plage, 74 410 Duingt, Tel : 04.50.68.67.07