This beautiful beach has a large sunny lawn and a shaded area with benches. The water sports centre, which is integrated into the beach, offers paddling and kayaking.
The facilities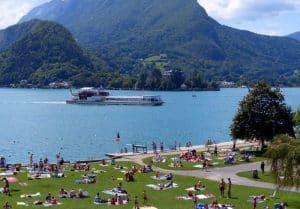 Talloires beach is located at the end of Lake Annecy, on the eastern side (about 15 km). The beach is about 250 metres long and 200 metres wide and is populated with different species of trees. It is located in the centre of the village. It is equipped with a paddling pool, a slide, a diving board as well as showers, toilets and cabins.
There are also two free car parks, children's games, a café-restaurant-grill and an ice cream parlour. Floating pontoons allow you to jump and dive into the lake.
The beach is fee-paying and supervised by lifeguards from 20 June to 30 August. There is also a swimming school for lessons.
Sports activities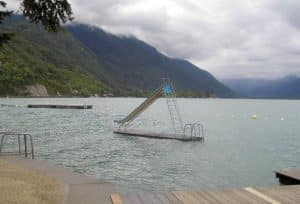 As well as taking a dip in the clear waters of Lake Annecy, you can also take advantage of the beach facilities to enjoy the following activities: beach volleyball, table tennis, diving board, children's pool and paddling pool, swimming lessons.
The nautical centre is integrated in the perimeter of the beach.
Prices and opening hours
The beach is now free. It is still supervised by lifeguards. Talloires beach opening hours :
Open from 20 June to 30 August 2020.
Paid and supervised beach from 10 am to 7 pm.
Address
The beach is located in the centre of the village: Plage de Talloires-Montmin, 74 290 Talloires-Montmin,Tel: 04.50.32.26.60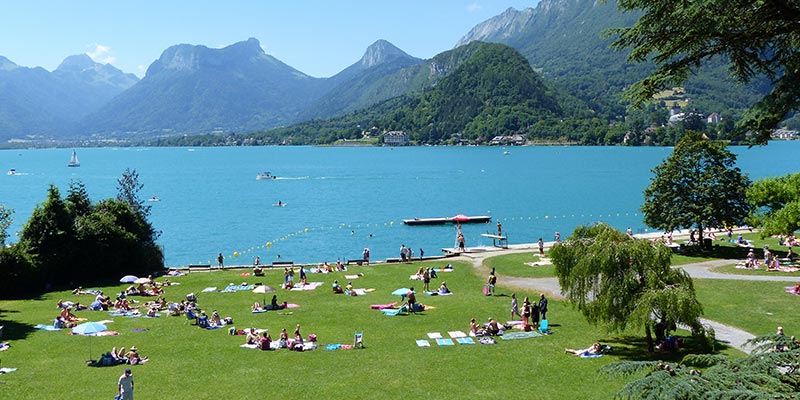 More information on: ville de Talloires