Water skiing is a sport that has been practised for a long time on Lake Annecy. This discipline combines the pleasure of gliding on the water with the discovery of a remarkable alpine landscape around the lake.
Water skiing in Annecy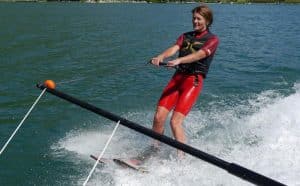 LakeAnnecy makes it easy to learn how to water ski. Depending on your level, from a first try to acrobatic figures and jumps, you will have an unforgettable time. Indeed, water skiing can be practiced in different ways depending on your level and the type of equipment used:
The classic leisurewater ski with two skis and sometimes style tricks such as slalom and jump,
Monoskiing, which also allows complex tricks,
Barefoot, which guarantees sensations as you do not need skis and are barefoot on the water.
Many water skiing champions started out on Lake Annecy, including Clémentine Lucine who has won multiple medals and is the world champion in the discipline.
Boat hire and water skiing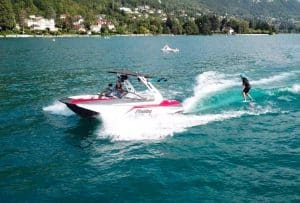 To practice this sport, you will have the choice of approaching clubs which will offer you training courses over a few days in order to acquire a sufficient level to carry out stylish figures. We recommend the very good team of the Ski Nautique Club de Sévrier which will welcome you on a private beach near Annecy.
Alternatively, the nice idea is to rent a boat equipped for water skiing from a rental platform for the day. With this formula, you will be able to have a nice trip on the lake and make water skiing trips. Knowing that this sport is quite physical, it will allow you to alternate skiing and resting with friends on the boat. If you feel too weak, you can get into shape in one of the many gyms around Annecy.
This option requires that only one person in the group has a boat licence. The rental also includes insurance, which is compulsory.
Wakeboarding on Lake Annecy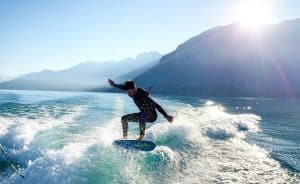 Most clubs that offer water skiing also offer wakeboarding. Outdoor sports companies also organise wakesurfing sessions. We recommend the area at the end of the lake, which is the wildest and calmest with a magnificent view of the Bauges massif and the bay of Talloires.
After the sport, you can have a snack or an aperitif at the snack bar "Le Cadre". Many hotels on the lakefront offer water skiing and wakeboarding sessions with their own boats.
No ski, but a wide board will equip you. The idea is that the motorboat towing you produces a deep wave so that you can perform tricks on it.
The tricks are quite acrobatic: rotations, jumps, hand releases.
This discipline is quite physical and the sessions rarely exceed 15 minutes.
Jet-Skiing on Lake Annecy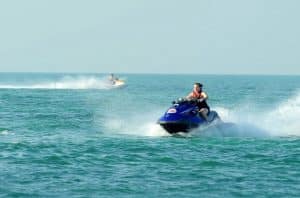 Jet-skiing is a sport that does not lack adrenaline. But since 2019, jet-skiing has been banned on Lake Annecy, as on Lake Bourget and Lake Geneva. This regulation was taken to protect the lake ecosystems and in particular the reed beds.
They allow many species of fish and mammals to reproduce. The waves created by the jet skis were seriously damaging the reed beds.
For more information, see Sports activities in Annecy
Cool video of Wakeboarding on the lake