The people of Annecy will tell you that the Pâquier esplanade is particularly pleasant. Indeed, this large, flat, green area in the centre of the town, covering more than seven hectares, is located opposite Lake Annecy.
Access to the Pâquier
You can get there easily either by coming from the Bonlieu centre, where theTourist Office is located, or by the Pont des Amours on the edge of the Jardins de l'Europe, near the Annecy town hall, or by the Avenue d'Albigny.
The walk
The many benches installed allow you to sit comfortably, you can also picnic on the grass, play football or volleyball. Numerous pedal boat and speedboat hire companies make it easy to swim, the water being shallow and the bottom of the lake being sand, it is particularly pleasant.
On the first Saturday of every August, the Fête du Lac, a superb fireworks display, is fired over the water in front of the Pâquier.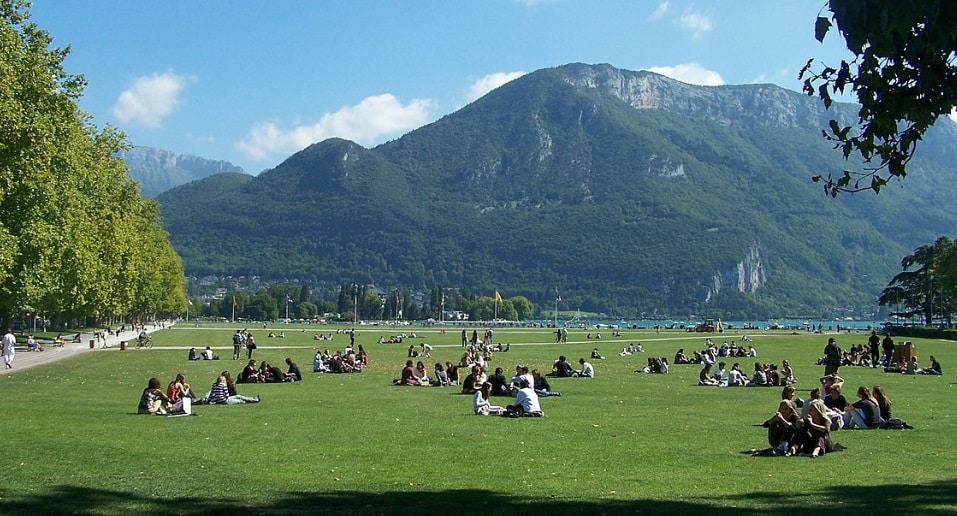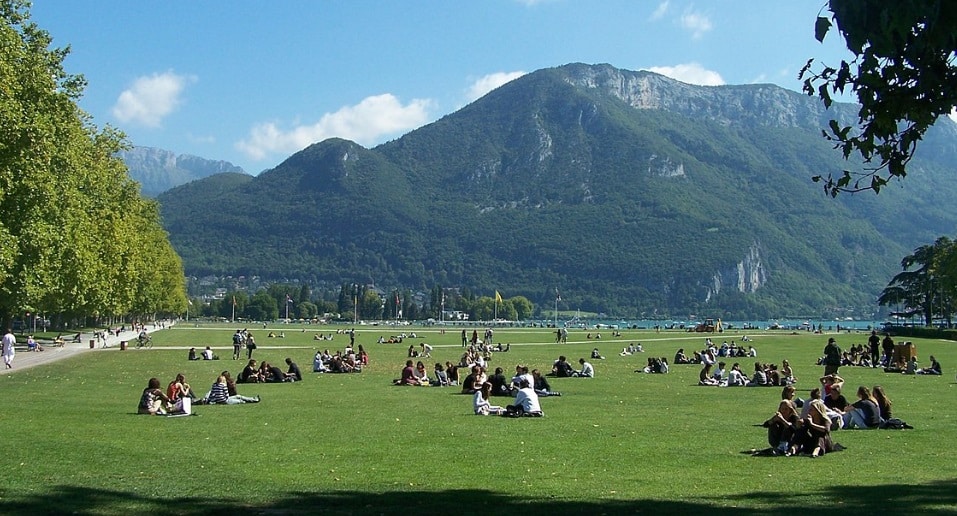 A little further on
Crossing it, you will go along the avenue d'Albigny, shaded by hundred-year-old plane trees, to reach the Albigny peninsula, for which access is on foot or by bike, the esplanade being well served by cycle paths. You can also do this walk by jogging.
History of Le Pâquier
During the Middle Ages, this land was used as pasture for cattle. Its name means "pasture" in Savoyard Arpitan. It belongs to several families who use it for this purpose. In 1613, Count Bernard VI of Menthon is said to have donated a large part of this land to the children of the town of Annecy. From the 17th century onwards, the various municipalities of Annecy gradually acquired all the plots of land that make up the Pâquier. At the beginning of the 20th century, a major urban development project was planned with a racetrack, a hotel and already a tramway line. This complex never saw the light of day and the vegetal character of the site has been maintained to this day.
Anecdote : an old legend says that an old lady bequeathed the Pâquier to the city of Annecy. This is partly true, but only a small part!
Good to know
The Pâquier is suitable for pushchairs and people with reduced mobility. It is forbidden to wear swimming costumes or bare chests. Picnics are allowed, but without cooking. Find out what is not allowed on the Pâquier to fully enjoy this natural area. As the site is very busy during the day, remember to give priority to the morning or evening.