Snowmobiling is an activity also known as snowmobiling or ski-doo. It is practised in winter, on snowy trails. Let's take a closer look at this winter sport.
The origins of snowmobiling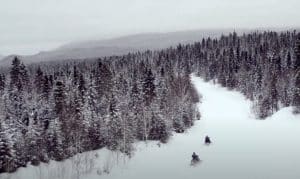 The snowmobile originated in Quebec in the 1900s. A young mechanic by the name of Joseph-Armand Bombardier came up with the idea in order to save his garage. In 1935, he assembled the very first snowmobile, using a new gear system. The B7 snowmobile soon became indispensable to doctors, priests and ambulance drivers working in remote areas. It is equipped with a 10-horsepower engine. Two years later, Bombardier applied for a patent and after several years of improvement, the new version of the snowmobile was ready. It is the one we know today. Their engine is both smaller and more efficient. In 1959 it was officially presented under the name Ski Dog. But a typo was made on the brochure and the snowmobile became the Ski-doo, although the first patent to protect the invention rights of a machine moving on the ground via a propeller was granted to James McDuff. On the French side, Adolphe Kégresse developed a flexible track in 1910. He then transformed several luxury automobiles at the request of Tsar Nicholas II.
Snowmobiling, a discipline in which Quebecers excel
Today, there are snowmobile competitions. They are mostly dominated by Quebecers. The first documented races date back to 1962, when models were specifically built for these occasions. The competitions can be of several kinds:
Cross-country
Acceleration
Relay
Snowcross
The X Games also host snowmobile competitions.
Snowmobiling around Annecy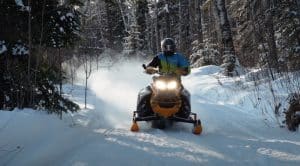 There are many ski resorts offering snowmobile rides. Some, such as Les Saisies, will even allow you to do the activity at night. A unique opportunity to rediscover the mountain, while enjoying downhill or cross-country skiing during the day. If you are not tempted by night-time, you can still try snowmobiling in the following resorts:
For an introduction to snowmobiling or a snowmobile ride, you should contact the Tourist Office or the service providers directly.
Practical information about snowmobiling
French regulations
Snowmobiling in France is possible. But it is necessary to respect the regulations in force. Thus, the marked trails of ski resorts are accessible, but only once the slopes are closed. Drivers must be over 18 and have a car or motorbike licence. Passengers must be at least 8 years old. If you have never been snowmobiling before, we recommend that you go with a professional.
What equipment is needed for snowmobiling?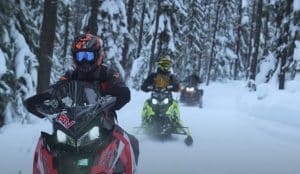 To go snowmobiling, it is essential to have the right equipment. The outfit you wear for skiing can be just right. Think about your gloves, your wetsuit and your après-ski boots. We also recommend that you don't forget your sunglasses or goggles, and a helmet is mandatory when snowmobiling. Some service providers will provide you with this accessory, but you can take your own.