Alpe d'Huez is a resort located in the department of Isère. It is located at an altitude of 1,860 metres. Known for its ski area, the resort is also appreciated by cyclists for its 21 bends and its pass, which is not classified as a category.
L'Alpe d'Huez, an international resort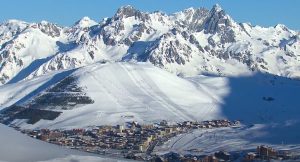 Alpe d'Huez was originally a small hamlet of thirty chalets. They were occupied during the summer months, between June and September.
Skiing appeared in Alpe d'Huez in the 1910s. A 15-room hotel was built in Huez in 1911. Then in 1923, the Touring Club de France rented an alpine chalet in order to welcome the first skiers.
But it was in 1934 that the resort developed considerably, with the construction of the first hotels. Two years later, the first detachable ski lift was developed by Jean Pomagalski. This was a world first.
An international reputation in the 1960s
In 1968, the resort of Alpe d'Huez hosted the bobsleigh events of the Olympic Games. It was also the back-up site for the downhill skiing competitions. This was a great showcase for the resort, which began to build up an international reputation. This reputation was to be reinforced during the following decades, with the passage of the Tour de France and the major developments carried out, such as the Maison de l'Alpe.
Today, the international clientele is numerous in the resort. World-renowned events are organised every year and contribute to the reputation of Alpe d'Huez. The resort has even been voted "Best ski resort in Europe" several times in a row.
The Alpe d'Huez ski area
The Alpe d'Huez ski area covers 10,000 hectares, 840 of which are accessible by ski. The Alpe d'Huez Grand Domaine Ski is made up of five resorts and two villages:
Auris en Oisans
L'Alpe d'Huez
La Garde
Le Freney d'Oisans
Oz en Oisans
Vaujany
Villard-Reculas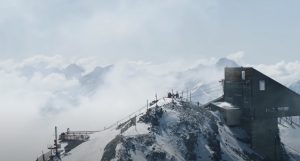 During your Alpe d'Huez ski holidays, you can ski for miles without having to take the lifts again. There are five itineraries with a total of 10,000 metres of vertical drop. And for more thrills, we recommend the 16-kilometre Sarenne piste.
Another positive point of the Alpe d'Huez ski area is the quality of the snow. This is guaranteed throughout the season, due to the altitude of the slopes and the presence of numerous snow guns.
As for the off-piste area, it is one of the largest in France. You can enjoy 70 itineraries, adapted to all levels. However, don't forget to equip yourself with an Arva. Don't hesitate to ask a professional to accompany you if you are not used to off-piste skiing.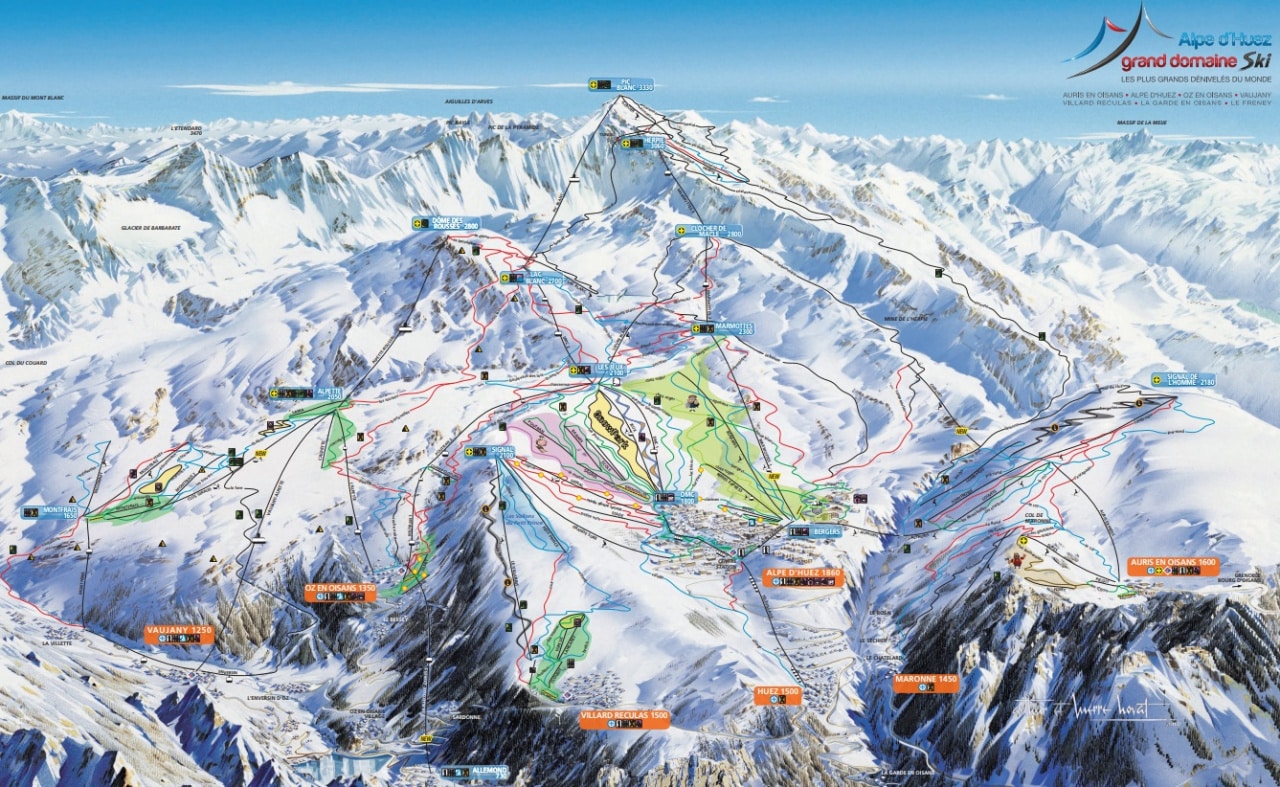 Alpe d'Huez – Office de tourisme
The best rated hotels
Depending on your budget, we have selected for you four hotels in the heart of the resort of Alpe d'Huez. They have very good reviews from customers.
Alp'Azur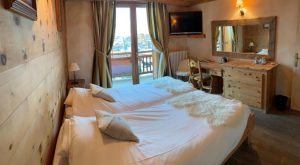 The Alp'Azur hotel is located in the heart of Alpe d'Huez. You can enjoy the terrace with a beautiful view of the mountains. The slopes and ski lifts are 300 metres from the hotel.
From 78€ per night.
Daria i-Nor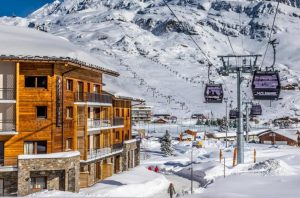 Daria I-Nor offers ski-to-door access. This 5-star hotel offers a rental service for its guests, as well as access to the spa, hammam and gym. Private parking is also available.
From €359 per night.
Le Petit Prince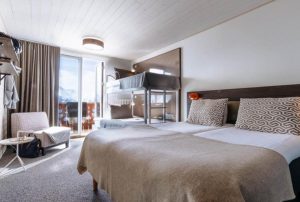 Le Petit Prince is located 5 minutes from the centre of Alpe d'Huez. It offers direct access to the slopes and the ski lifts. The youngest guests can enjoy the children's club, while the others can play billiards in the common room.
From 167€ per night.
Au Chamois d'Or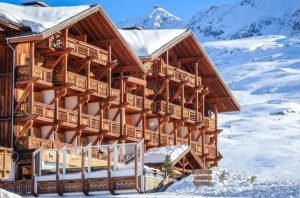 The Chamois d'Or hotel is located at the foot of the Pic Blanc piste. Some of the rooms offer a unique view of the Grandes Rousses summit. You can enjoy the hotel's restaurant, which features local cuisine.
From 239€ per night.
The most beautiful chalets
For an unforgettable holiday in the mountains, we offer two chalets for rent. They are very popular with holidaymakers.
Les Balcons du Golf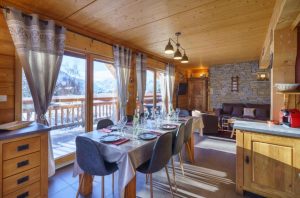 The chalet Les Balcons du Golf is a house located in Alpe d'Huez. The slopes are less than 300 metres away and you can enjoy the view of the river from the balcony. The accommodation also offers access to a sauna.
Chalet Secret de Neige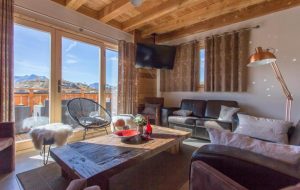 Chalet Secret de Neige is a 150 m² accommodation. It is located 700 metres from the ski school and 200 metres from the slopes. The chalet has 6 bedrooms and 6 bathrooms, as well as a sauna and a ski room.
Winter sports
Other activities than alpine skiing, cross-country skiing or hiking can be practiced in Alpe d'Huez:
Ice skating. The ice rink is open all week during the winter season. You will have the opportunity to try various disciplines, such as hockey, curling or simply ice skating. A snow garden is also set up several times a week on the ice rink.

Ski joëring. The principle of skijoring is simple. You ski and are pulled by a horse. This is a great opportunity to discover the mountains from a new angle. The activity is suitable for everyone, the only condition being that you must be able to keep your skis parallel.

The ice laser game. This activity will delight many. Based on the same principle as a classic laser game, you will compete outdoors. The course is 100% covered in snow and includes igloos. The ice laser game can accommodate up to 10 people at the same time.
The resort's athletes
The resort of Alpe d'Huez has many high-level athletes. We invite you to discover three of them who were part of the French teams.
Ophélie David
Ophélie David is a former skicross skier of the French team. A member of the Alpe d'Huez ski club, she began her career in Alpine skiing before turning to skicross. Ophélie David has won several medals at the World Championships. In 2007, she won gold in Madonna du Campiglio. In total, the Frenchwoman has 64 podiums, including 26 victories. Today, she has put an end to her career as a top-level sportswoman.
Gauthier de Tessières
Gauthier de Tessières is a former member of the French national ski team. A member of the Alpe d'Huez ski club, he was crowned World Super-G vice-champion in 2013 in Schladming. The Frenchman made his World Cup debut in the 2002 season. Today, Gauthier de Tessières has hung up his skis and now works as a Branding and Sports Manager in a company located in Saint-Jorioz.
Laure Pequenot
Laure Pequenot was born near Grenoble, in Échirolles. She was crowned Junior World Champion in slalom in 1994 and made her first appearance in the World Cup in 1995. The skier participated in three Olympics during her career. She even won the silver medal in slalom in Salt Lake City in 2002. That same year, she won the small globe in the specialty.
Must-see events in Alpe d'Huez
Alpe d'Huez is one of the resorts that host many international events. We suggest you discover two of them, which are not to be missed.
International Comedy Film Festival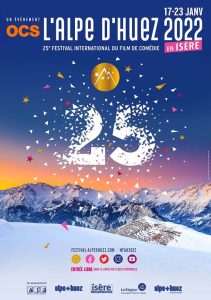 The International Comedy Film Festival takes place every year in January. It is the only festival in Europe on this theme, which has allowed it to become a reference. Although it is a professional event, the International Comedy Film Festival also welcomes the general public. More than 15,000 tickets are sold every year.
The programme consists of a wide variety of films. It can be both long and short films. It allows us to showcase some great discoveries.
Tomorrowland Winter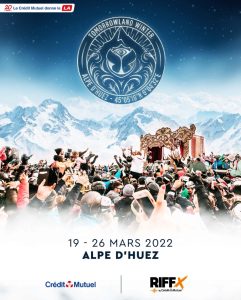 Tomorrowland is an electro music festival. The event, which takes place in July in Belgium, has been adapted for winter in Alpe d'Huez. For a week, concerts follow one another in the resort. Thousands of festival-goers gather to celebrate
During this week, Alpe d'Huez is sold out. Among the artists who performed at Tomorrowland Winter, we find Ofenbach or Martin Garrix.
Ski passes
As in most resorts, several types of ski passes are available to holidaymakers. If you are staying with your family, we recommend that you take the pass dedicated to you. It must be ordered at least 3 days before the first day of skiing. With this pass, you will have access to various activities.
Another pass we recommend you to pay attention to is the Tribu Alpe d'Huez. It is a good plan if you spend your holidays with friends in the Isère resort. To take advantage of it, you need to be at least three people and stay for six days or more.
Extra info: don't hesitate to buy your passes directly online. You will have access to more promotions.
Snowshoeing itineraries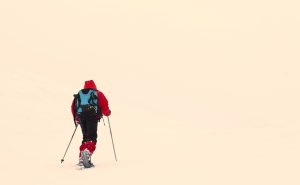 There are many snowshoeing routes in Alpe d'Huez. But before you go, don't forget to be properly equipped. If you don't have any snowshoes, you can easily rent them in a rental shop in the heart of the resort. Make sure you wear warm clothes and don't leave without sunglasses.
It is then up to you to choose your route according to your level. Here are a few ideas for walks:
Lake Besson. Parallel to the cross-country ski trail, this is a simple outing lasting about 40 minutes.

La Pierre Ronde. Count on 1h30 for this very easy walk. Our only recommendation is not to go further than the Pierre Ronde, as the risk of avalanches is high.

La Crête du Signal. This medium difficulty hike offers a nice view of the Belledonne and Taillefer massifs. Allow one hour for the walk.
Ideas for activities in summer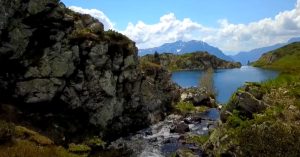 Alpe d'Huez is a resort where it is possible to do activities all year round.
For example, you can go hiking. Here are some ideas for itineraries:
The Face des Rousses. This 2-hour walk allows you to discover the Alpine Garden and is done along the mountain bike area. It has a difference in altitude of 840 metres.

Les Alpages. This hike offers a beautiful view of the Belledonne and Taillefer massifs and the Romanche valley. Count on 4 hours of walking, for 85 metres of ascent.

The Signal de l'Homme tour. This loop goes through the gorges, on a pleasant path in the undergrowth along the Sarenne river. An ideal hike in summer. Allow 5 hours for a 20 metre climb.
Mountain biking
Alpe d'Huez is a land of cycling. You can therefore easily practice mountain biking in the resort. 36 tracks are marked out and are divided as follows:
13 cross-country, 144 km
12 enduro trails, 98 km
11 DH trails, i.e. 26 km
If you don't have a mountain bike, you can of course rent one from a specialised shop in Alpe d'Huez. In this way, you will be able to choose between a classic model and an electric one.
Alpe d'Huez and the Tour de France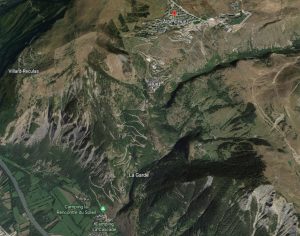 Alpe d'Huez regularly hosts the Tour de France. Historically, it is the oldest finish at altitude. The 21 laces were climbed for the first time in 1952.
It is a stage that is eagerly awaited by fans of the Grande Boucle. Several French riders have already won, such as Thibaut Pinot in 2015, Pierre Rolland in 2011 and Bernard Hinault in 1986.
The crowds on the Alpe climb are always impressive. And the most famous turn is certainly n°7, the Dutch one. The fans have come especially for the race and are present several days before the Tour de France. It is as much to say that the atmosphere is electric.
Eurosport France
Access and public transport
To get to Alpe d'Huez, you have several options. Take public transport, such as the train or the plane. You can then reach the resort by shuttle bus or taxi. Another option is to drive. In this case, don't forget your special equipment between 1 November and 31 March. You should also know that charging stations have been installed in the resort for electric vehicles.
During the winter season, urban transport is free in Alpe d'Huez. You can park your car and not take it back during your stay.
Video presentation of Alpe d'Huez
Resorts near Alpe d'Huez
Among the resorts close to Alpe d'Huez, we find the one of Les Deux Alpes. During a stay, it is easy to go there for a day. You can also go to Les 7 Laux, especially if you like powder snow.