Are you looking for an innovative and trendy activity to occupy your children in Annecy? We have researched the latest and greatest activities to help you have a good time with your children. Depending on their age, you can have the little ones discover the play parks and for the older ones the laser games and escapes games in Annecy.
Play parks in Annecy
We present the activities offered in a playground and the offer available in the Annecy area.
What is a playground?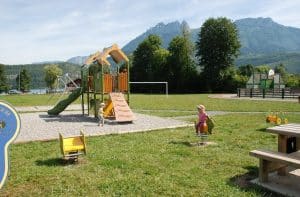 These playgrounds, whether outdoor or indoor, are very popular with children under 12 years old. They are very colourful and offer a wide range of fun and sporting activities. Giant slides provide great sensations. Giant labyrinths made of ropes allow children to climb and hang on while looking for the exit. For the little ones, there are ball pools. Mini-karts introduce them to driving. Trampolines are also available for jumping.
These fun parks are also an opportunity to invite friends to celebrate a birthday. The formulas can include a small catering service for a snack or for lunch. Invitation cards can also be included in the offer. Some activities, such as go-karting, are not included in the price.
Play parks in Annecy
We present you two playgrounds in Annecy: La forêt Enchantée in Sillingy and Le Funny Parc in Annecy.
La Forêt Enchantée is a covered playground of more than 1,000 m². It is open all year round on Wednesday, Friday, Saturday and Sunday. In summer, it is open every day. You will find many play activities, which will keep the children busy for a few hours. Lunch and snacks are available on site. This area has a new attraction: the Laser Fun. From the age of 4, children equipped with a laser gun will have to disable opponents to get out of a maze in the shape of a pirate ship. The Enchanted Forest is located at 516 route des Prés Rollier, 74 330 Sillingy next to the But shop.
The Funny Parc is an outdoor playground in front of Lake Annecy. It is open on Wednesdays, Saturdays, Sundays and every day during public holidays and school holidays. During the winter and in case of bad weather, the park is closed. You will find many games and activities such as trampoline, inflatable structures, inflatable slides, accrobranche, mini-karting, mini-golf and duck fishing. The last three activities are not free of charge. The park is ideally located next to the Impérial beach, 30 Avenue d'Albigny in Annecy. After the games, you can take the children to cool off in the water of Lake Annecy.
Laser Game in Annecy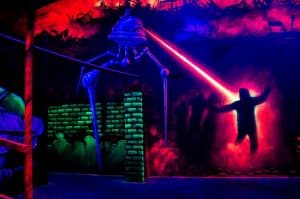 For older children as well as adults, the laser game is a very popular fun activity.
How does a Laser Game game work? And what are the Laser Game rooms in Annecy? We explain it all to you.
The rules of a Laser Game game
Players are equipped with an electronic waistcoat and a laser gun that is harmless to vision. You can play solo or in teams, the goal is the same, to score as many points as possible by shooting at the opponents. For team games, you need more than 8 players.
Scoring: if you hit an opponent, you win points. Conversely, you lose points if you are hit or if you hit a teammate.
Game modules can spice up the laser game. A trap can protect an area and cause you to lose points. Bases are areas that you must control for as long as possible in order to earn points. Finally, laser doors cause you to lose points when you pass through them and if they are activated.
Please note that hand-to-hand combat is forbidden. It is also impossible to fight on the same target. Finally, it is forbidden to hide your target to avoid being hit.
Laser Game rooms in Annecy
There are two laser game rooms in Annecy.
Laser Game Évolution: this room is located in the centre of Annecy at 15 bis rue de la Gare. It offers classic solo and team games with the following modules: trap, base and laser door.
Lasermaxx74: this large hall has two floors, located at 524 route des Prés Rollier, in Sillingy, next to the But shop. You will appreciate theanti-tracking option which allows, after being hit, to have 7 seconds of respite to escape. By shooting the pods, you will obtain special powers such as burst fire, spy mode, invisibility and invulnerability.
In both of these laser game resorts, it is necessary to book your games.
Escape Game and City Game in Annecy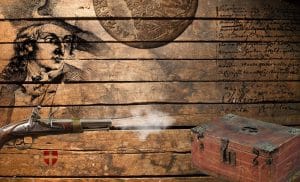 The objective of an escape game is to find the solution to get out of a room in a limited time. The Annecy region offers several quality Escape Games:
L'Atelier des Énigmes: 8 bis Route des Creuses, PA des Verts Prés, 74960 Annecy

Tel

: 09.72.80.17.19
La Compagnie du Jeu: 15 avenue du Thiou, 74000 Annecy

Tel

: 07.66.64.35.63
La Grande Évasion: 89 Rue du Val Vert, 74600 Annecy

Tel

: 04.50.05.16.96
Mystères du Lac: 23 Rue Sommeiller, 74000 Annecy

Tel

: 04.50.32.86.15
Secret Room: 8 Rue Cécile Vogt Mugnier, 74000 Annecy

Tel

: 04.50.08.22.59
Ereel : 486 route des Prés Rollier, 74330 Sillingy

Tel

: 0 890 24021 00
Escape Chô: 440 route de la Touffière, Saint-Martin-Bellevue, 74370 Fillières

Tel

: 07.69.62.81.16
Studio Guimauve : 6 quai de la Tournette, 74000 Annecy
The Departmental Archives of Haute-Savoie offer an escape game called "Héritage Mortel". Free of charge, it allows you to play a game inspired by real events while using original archive documents.
Following the health crisis, the activity of the escape game centres was limited as the games take place indoors. Today, city games are offered to discover Annecy in a fun way. The aim is to solve enigmas in the form of a treasure hunt. The level of these activities is adapted according to the age of the participants. Maps are used to discover the city's emblematic sites, such as the Jardins de l'Europe or the alleys near the Château.