Rafting is a sport practised on rivers. In theAnnecy area, rafting can be enjoyed at a number of locations, including on the Giffre, Arve and Isère rivers.
Rafting, a white-water sport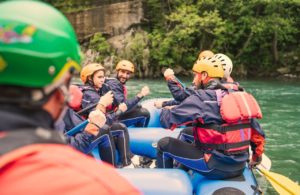 Rafting is a white-water sport that offers a unique and thrilling experience for thrill-seekers and nature lovers. Rafting involves descending a tumultuous river in an inflatable raft, tackling rapids and natural obstacles along the way.
Rafting can be practised in a group or solo, and is accessible to all skill levels, from beginners to experts. Combining strength, agility and strategy, rafting is a sport that will challenge you while allowing you to discover magnificent natural landscapes. It's also an unforgettable outdoor experience.
Rivers for rafting near Annecy
There are several rivers close to Annecy that are ideal for rafting, both in Haute-Savoie and Savoie. Here are just a few of them:
Practical information on rafting
Rafting is not a risk-free activity. We strongly recommend that you work with a professional if you're going to try it. This will ensure your safety and make it easier for you to let go.
Activity providers
There are a number of rafting providers around Lake Annecy. Here are a few of them:
Elsewhere in Haute-Savoie, particularly in the Arve and Giffre valleys, you can also find service providers if you want to try rafting:
What are the conditions for rafting?
Note that the conditions for rafting may vary depending on where you practice this sporting activity. However, here are a few general conditions that apply to most locations:
Be at least 8 years old (or older, depending on local requirements)

Be able to swim

Be in good physical condition, as the activity can last several hours

Wear the compulsory safety equipment, including a lifejacket, helmet and neoprene suit

Follow the guides' instructions and observe the safety rules throughout the activity

Be aware of the risks and dangers of rafting
You should also bear in mind that the conditions for rafting may be stricter in some places, particularly for advanced courses or for people with pre-existing health problems. It is therefore advisable to check with local professionals to find out whether or not you can go rafting.
Compagnie des Guides de Chamonix
Sports derived from rafting
There are other sports derived from rafting. If you're a thrill-seeker who loves water, these are the sports for you. We'd like to introduce you to two of them.
Hydrospeed
Hydrospeed is a white-water sporting activity that involves navigating a tumultuous river using an individual float. Also known as "white water swimming", hydrospeed is an activity that allows you to tackle rapids and natural obstacles while being carried along by the river's current.
Unlike rafting, which is done in groups, hydrospeed is an individual activity that requires a certain level of physical fitness and swimming ability. You'll be equipped with a neoprene wetsuit, helmet and flippers to help you stay afloat.
Canoraft
Canorafting is a white-water sporting activity that combines the stability and manoeuvrability of a canoe-kayak with the adrenalin and challenge of tackling the rapids and natural obstacles of a tumultuous river. This activity is usually done in pairs, with one paddler at the front and another at the back of the canoe.
Canorafting is an activity accessible to all skill levels, from beginners to experts. It's an ideal activity for those looking to combine the pleasure of calm-water boating with the excitement of white-water rafting. Whether you're looking for fun with family and friends, or a personal sporting challenge, canorafting is an activity that will leave you with unforgettable memories.
Nunayak Rafting