Doussard beach is characterised by its large size, located at the end of Lake Annecy, the water quality is excellent for swimming. It is open all year round and supervised from July to August only. Access is via the road that goes around Lake Annecy. Located at the end of the lake, the view is magnificent on the small lake with Annecy on the horizon.
The facilities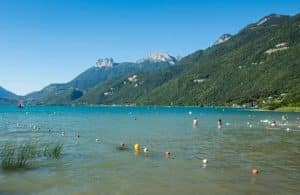 The beach is free, but the two nearby car parks are not free. The facilities include a snack restaurant and outdoor showers. We recommend the snack bar "La plage" which serves very good food. There are many games for children before and after swimming.
Thewater is shallow for several metres from the shore, making it easy for young children to swim and play in the water. A pontoon with a windbreak provides a beautiful birdwatching point and a chance to discover the toad system.
Toilets and showers are located next to the beach snack bar.
Address: Plage du Bout du Lac, Bout du Lac, 74210 Doussard, Tel : 04 50 44 30 45
Prices and opening hours
The beach is supervised in July and August only. It is free, but parking is charged from 01/05 to 30/09 at a rate of 0.70 € for the first half hour and then 1.20 € per hour, with a fixed rate of 15 € for 8 h 15 and a subscription of 61 € for the whole period. It is necessary to count 4 € for an afternoon.
Nearby activities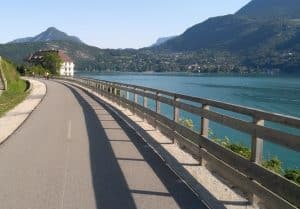 Boat hire is a great way to visit Lake Annecy. Pedal boats are convenient for swimming at a distance from the shore. Moorings can be hired if you have a boat. You can play tennis and mini-golf and have lunch at the nearby restaurant. The cycle path passes 100 metres from the beach and allows you to cycle around Lake Annecy.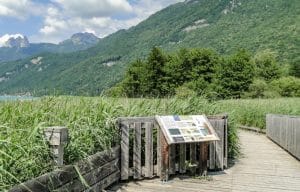 To the right of the beach, you can access the magnificent Bout du Lac nature reserve. This reserve is forbidden to domestic animals, you can't go there. A well known campsite is located at the edge of the beach.
More info: Campsites around Lake Annecy