Cluses is located in the Arve valley, it is part of the arrondissement of Bonneville and is the capital of the canton of Cluses. Its 18,000 inhabitants are called Clusiens and Clusiennes. This town is the worthy representative of French screw-cutting in Haute-Savoie.
Geographical location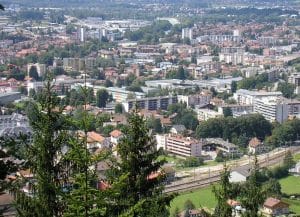 Perched at an altitude of between 470 metres and 1175 metres, the town of Cluses covers more than 1000 hectares. Cluses is 45 km from Geneva and Chamonix, 65 km from Annecy and 39 km from Annemasse. The communes bordering the town of Cluses are : Saint-Sigismond, Châtillon-sur-Cluses, Scionzier, Nancy-sur-Cluses, Magland, Thyez and Arâches-la-Frasse.
The town is crossed by the river Arve (of the same name as the valley) and is twinned with the towns of Trossingen in Germany and Beaverton in the USA.
History and heritage of Cluses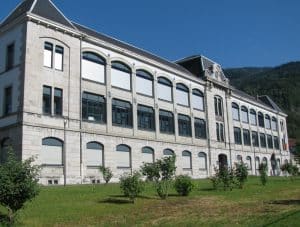 During the Middle Ages, Cluses remained a small town of 800 inhabitants. The climate and the wars slowed down its expansion. Around 1715, the town began its watchmaking activity by producing parts for the manufacturers in Geneva. This was a way for the population to diversify their income and avoid leaving the region. In the 20th century, the screw-cutting industry developed, increasing the number of outlets: aeronautics, automobiles, weapons, telephony. The population increased sharply and new neighbourhoods were opened up to newcomers.
Nowadays, it is the high-precision mechanical industry that attracts new customers. A heritage trail is proposed with the help of 14 panels scattered around the city, to better understand this industrial heritage.
Cultural facilities
The town offers numerous facilities for culture and entertainment.
The Atelier media library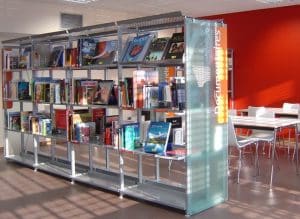 With more than 42,000 documents available, the multimedia space has computer stations to consult and write your CV. Throughout the year, there are activities for young and old.
Cinéma Cinétoiles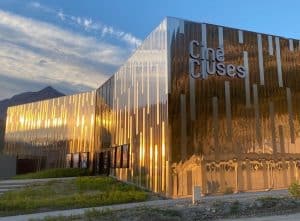 Run by an association, this art house cinema is located in the heart of Cluses in the Espace des Allobroges. Films are shown on Tuesdays and Wednesdays. One Wednesday a month, young people can attend a screening. Prices are less than 6 € per seat.
The Allobroges Theatre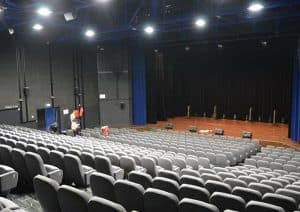 This municipal facility offers from October to May about twenty eclectic and quality performances. It is a highlight of the cultural season. PRMs are also welcome with adapted facilities. If you like theatre, you can attend some great shows in Annecy at Bonlieu Scène Nationale.
L'Atelier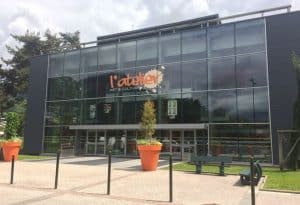 This public facility is a concert hall that offers contemporary music for young people. It is open from October to June. The programme is of high quality and with the Brise Glace in Annecy, it is a reference for amplified music. A soundproofed and equipped rehearsal studio is available for groups, called the Labo.
Clock-making and screw-cutting museum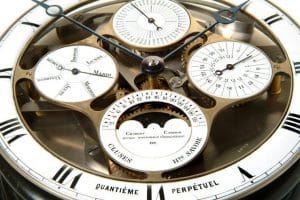 The town has experienced a major boom due to these two industries. You can see the collections of the former national watchmaking school of Cluses. Guided tours are organised as well as animations and temporary exhibitions. You can admire many French and English pocket watches as well as watches called chronometers, which are complex to make.
Recently, the mediator discovered some very rare watches in the collection of the students of the national watchmaking school. The most valuable watch is a gold pocket watch. It is equipped with a chronograph with a detent tourbillon escapement. It was assembled by the watchmaker Abraham Louis Breguet in 1800. This mechanism remained the most accurate until the 1970s with the advent of quartz watches.
The Cluses School of Music, Dance and Theatre
This artistic teaching establishment offers an introduction to dance, theatre and music.
Cultural events
The Urban'Art Festival: Held in October, this is an opportunity for young people to rediscover their culture with double dutch workshops (hip hop version of skipping rope), slam workshops, graffiti workshops, and a streetball tournament.
The Images & Neige Festival: This is an international festival that exhibits photographs taken in extreme cold environments. Photographers need to know special techniques for this exercise. It takes place every year on the third weekend of January at the Parvis des Esserts.
Miam Street Food Festival: This innovative event takes place every year during the first two weeks of September. This Street Food Festival aims to share the pleasure of eating local ingredients from short circuits cooked in an artisanal way. This event takes place every year in the Arve Valley. It is an opportunity to discover the cuisine of street food artisans, new cooks and also well-known bistros. Chefs offer their creations in food trucks scattered around the urban space. The social link allows people to eat together while celebrating the good life together. For the 2020 edition, the festival welcomed 15 local producers and 10 food trucks.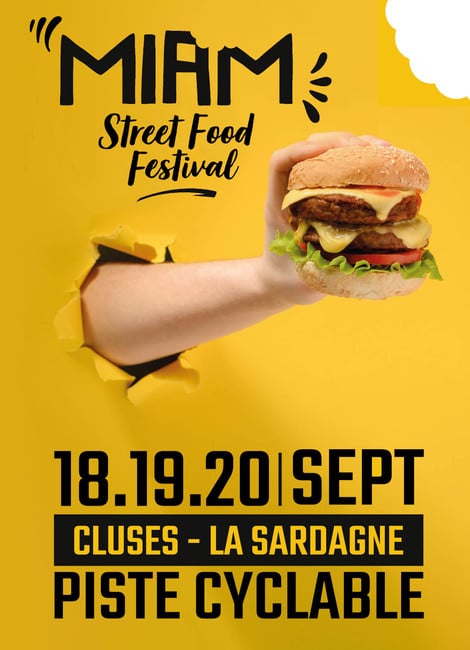 Top rated hotels
Depending on your budget, we have selected five hotels in Cluses that offer excellent value for money and have very good customer reviews:
The Originals City, Hôtel du Faucigny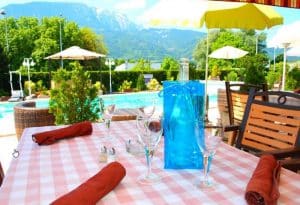 Located at the gates of Cluses, this hotel features large, spacious rooms and an outdoor swimming pool. The buffet breakfast is served daily in the common room. The Carroz ski resort is 16 km away by car.From € 80 per night.
Hotel National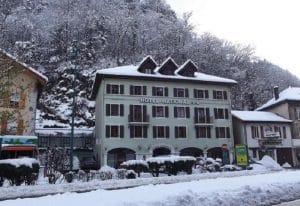 This hotel is conveniently located 800 metres from the Cluses train station and 1 km from the A40 motorway. The rooms are well equipped. You can reach the resort of Les Carroz in 20 minutes by car. The resorts of Flaine and Chamonix are 30 km away from the hotel.From €84 per night.
Hotel 4C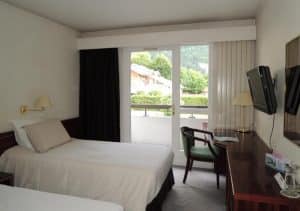 A good location for this hotel, which is 2 km from Cluses train station and 10 km from the Grand Massif ski slopes. According to reviews, the restaurant offers excellent local cuisine prepared with fresh local products. The balconies have a beautiful view of the massif.From €90 per night.
There is also an unusual accommodation where you can sleep in a Wapi lodge!
Hotel Restaurant Le Bois du Seigneur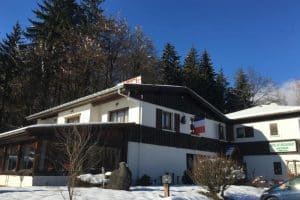 Near Cluses and the winter sports resorts, this hotel is decorated in the Savoyard style. You can enjoy many sports activities such as skiing, cycling, hiking, paragliding and rafting in the nearby Alps.From 80 € per night.
Hotel-Spa Le Morillon Charme & Caractère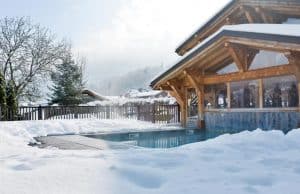 In the village of Morillon, near Cluses, this hotel is located 200 metres from the cable car and 7 minutes' walk from the Lac Bleu beach. It features a jacuzzi, a sauna, a hammam and a heated swimming pool. Horse riding, tennis and hiking are available nearby.From € 110 per night.
Doing sport in Cluses
There are three main sports facilities:
The aquatic centre: for swimming, relaxation and family leisure activities with a large pool, a comfort pool equipped with an access ramp, a paddling pool, a giant slide, a solarium and a beach volleyball court.
The Sports Club: this association is the interface between the town hall and the sports clubs. You can contact this service to find out which sport interests you.
The sports routes: these four routes of 4.5 km to 10 km allow running in the city.
Unusual activities
The Balme canyon in Magland is an ideal spot for families and children to discover canyoning. The river is adapted and accessible to descend natural slides. Your guide will accompany you for abseiling in complete safety.
At the foot of Mont Bargy, the Montain E-Park allows you to ride an electric motocross bike in a preserved natural landscape. The size of the little bikes is adapted to children who can drive them from the age of 6. The session lasts 15 minutes.
On the Agy plateau, an experienced musher will teach you how to drive a dog sled. If you choose a two-day trip, you will be totally immersed in a northern environment with preparation of the team and feeding of the dogs.
School groups
For younger children, requests are centralised at the Maison de la Petite Enfance, located at 335 avenue du Noiret. The town has six primary schools (nursery and elementary) and one public school. There are two secondary schools and three public and private high schools in Cluses.
Markets in Cluses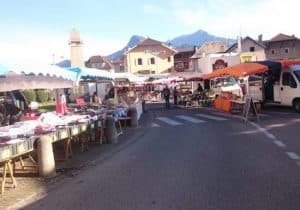 Two markets are held each week in this Haute-Savoie town. They offer fresh quality products and local specialities.
The market in the centre of Cluses takes place every Monday from 8 am (7.30 am in summer) to 2 pm, it is located: place Charles de Gaulle.
The Thursday market is held on rue Joseph Depoisier in the Sardagne district, next to the Saint-Jean-Marie-Vianney church, until 1.30 pm.
Public transport
The town of Cluses in Haute-Savoie offers:
An urban bus network that has extended since 2017 to the towns of Marignier, Thiez, Marnaz and Scionzier. The five bus routes run from 7am to 8.30pm from Monday to Saturday. Buses run every 30 minutes during peak hours and every hour during off-peak hours. Bus stops are available every 300 metres.Fares: ticket at 1 €, book of 10 at 8.50 €, monthly pass at 15 € and annual pass at 150 €.
A shuttle service to nearby ski resorts (Flaine and Les Carroz) called "Skibus" allows holidaymakers to visit the town of Cluses.
Town Hall
The Town Hall of Cluses is located at Place Charles de Gaulle. Official website of the Town Hall of ClusesOpening hours :
Monday to Friday: 8.30am – 12pm / 1.30pm – 5.30pm
Except Thursday: 1.30 – 5.30 pm (closed in the morning)
Saturday: 9 am – 12 noon
Photos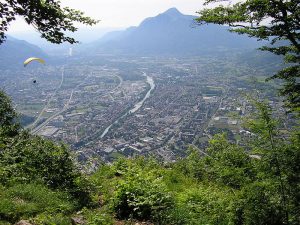 View of Cluses from the point of Chevran
Source: Wikipedia.org – Click on the photo to enlarge it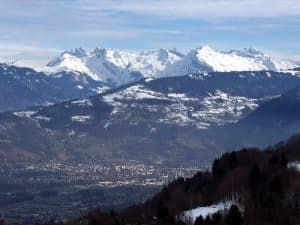 Cluses in the centre of the Arve valley – Click to enlarge
Source: Wikipedia.org – Click on photo to enlarge
To ski in the area