You are moving to Annecy. But your new home is not big enough to hold all your belongings. The flat does not have a cellar or garage to store your personal belongings. The furniture storage solution is adapted to your problem.
Choosing a storage facility in Annecy
It is not easy to part with certain items, furniture or books. But when space is at a premium, you need to find a solution to keep your belongings safe until you find a solution. Storage is a good temporary solution.
Before renting a storage unit, you need to determine how much space you will need. The size of this space is expressed in cubic metres. There are two types of storage facilities:
Traditional furniture repositories, which are less expensive, but more difficult to access and require an appointment to access your box.
Furniture repositories in self-storage facilities. You can go at any time but the cost is higher. This option is suitable if you need frequent access to this type of storage.
It is best to use a metal box to avoid the risk of fire. You can also follow these tips:
The humidity level of the storage unit should be low so as not to damage your belongings.
The storage facility should be close to your home in Annecy.
The opening hours should fit in with your schedule.
The storage space must be clean.
The rental contract should be simple, with any administration or cancellation fees mentioned.
The site must be supervised and secure.
The price of a storage facility
The storage solution is suitable in Annecy if you do not have a back-up solution (family, friends).
The rental of an 8 to 10 m3 storage unit is around 100 € per month. For a volume of 27 to 30 m3, it is necessary to count nearly 300 € monthly. You have to add the insurance for about 20 € per month.
Prices vary according to certain criteria:
boxes with 24/7 access are more expensive, as are ground floor containers.
the longer the rental period, the lower the price.
the nature of the goods stored can increase the price if they are of high value.
In winter, furniture repositories are cheaper, so it is often worthwhile renting in advance.
Furniture repositories in Annecy
We have listed 4 addresses in the Annecy area that can help you store your belongings safely.
Ani Déménagement Annecy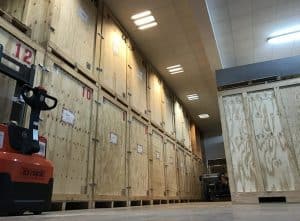 This family-run company, created in 1999, offers a quality furniture storage service: optimal security, permanent access with a badge 6 days a week, a wide choice of trolleys, flexibility (no minimum duration), free estimate and sale of removal equipment. Two sizes are available: 8 m³ and 12 m³. The goods deposited are insured against theft, fire, water damage and natural disasters.
Address: 25, route des Saintiers 74 320 SÉVRIER. Tel: 04 56 34 39 83. Website: www.demenagement-ani.com/garde-meubles-annecy/
Other addresses
Annecy garde-meuble, 11 avenue du Thiou, 74 000 Annecy.Annecy Box, 21 avenue du pont de Tasset, 74 000 Annecy.Home box Annecy, 1 route de la salle Cran gevrier, ZAC des romains sud, 74960 Annecy.