The lake of La Balme-de-Sillingy is a natural site for walking and picnicking near Annecy. Many facilities make it particularly pleasant.
A natural area with facilities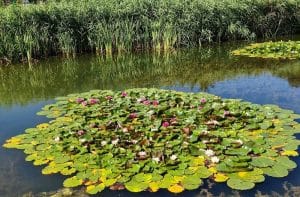 The name of the Balme dates back to the 5th century BC and means cave in Celtic. At that time, the entire plain was covered with water. Little by little, the area dried up and became a marsh. The area was developed into a medium-sized artificial lake near the mountain of La Mandallaz.
As far as the fauna is concerned, many birds such as ducks are present. The lake flora includes beautiful rose gardens and water lilies. In spring, you can admire the Asian cherry blossom trees.
You can take a nice walk along the banks. The lake is 1.7 kilometres long and is accessible to wheelchairs with assistance and pushchairs. There is a fitness trail where you can exercise on different equipment. Joggers particularly appreciate this loop for their training.
Numerous leisure facilities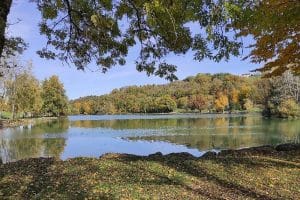 This artificial lake area is located to the north of the commune of La Balme de Sillingy, on the road to Paris. It is renowned for its fishing, for its pedestrian tour. Fishing is regulated, you have to buy a permit at the Information Point. You can use its rest and relaxation areas, its picnic areas and the children's playground.
In summer, the site is pleasantly shaded for resting on the banks or for eating in its restaurant area: the Chalet de Tornet. In the afternoon, it offers a sweet menu with ice creams and pastries.
To advise you on your holiday, there is a Tourist Information Point. To discover the region, you can rent electrically assisted bicycles on site.
You can park in the various car parks. There is a closed area for motorhomes with 25 pitches equipped with a blue float with waste water and drinking water disposal.
Address: 165 route de Paris, 74330 La Balme-de-Sillingy The site is open all year round and is free to use. There are also public toilets with disabled access and a drinking water point.
The village of La Balme-de-Sillingy is nearby. You can have lunch at the excellent restaurant of French culinary tradition: "Les Rochers".
The 24 hour race in La Balme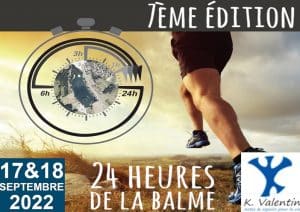 This annual charity event takes place every year on the first weekend in November. Participants come to take up their own challenge by walking or running, alone or in a team for 1 hour, 2 hours, 6 hours or 24 hours. The organisation offers refreshments and a device for counting the number of laps of the Balme lake. A race for children is also proposed on Sunday morning at 10:30. Participants receive a 24 hours de la Balme diploma.
The Gardens of Haute-Savoie Park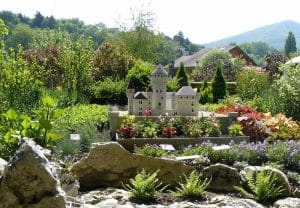 The children stroll through the Haute-Savoie Garden Park. It is made up of 54 miniature gardens around the lake. The objective of this treasure hunt is to discover the arrow word hidden behind these small gardens. This game is open from 01/04 to 30/09 every day during the opening hours of the Information Point. This area is also interesting for adults. The miniatures reconstitute the landscapes of the Haute-Savoie foreland. A nature meeting, with a conference and visit, is organised once a month.
The Lake Festival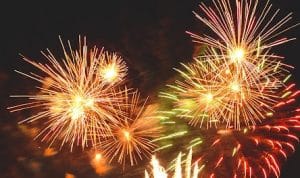 Every year, on the first Saturday of July, a big festival is organised. It offers musical entertainment, a meal, fireworks, pétanque competitions and a dance. In August, you can attend the Lake Annecy Festival.
The Roger Vittoz Carp Enduro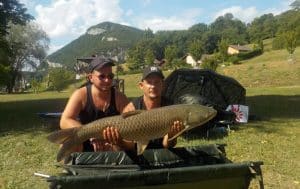 This event takes place over 72 hours in mid-August. It is a carp and sturgeon fishing competition. A fishing licence is not required.
Less than 20 minutes away by car, you can also discover Lake Annecy.