To introduce children to fishing and discover this sport, Pêch'Aventures, located in Cruseilles near Annecy, offers children the opportunity to come and tease the trout, one of the fish found in Lake Annecy. An idea for an outing to enjoy the sunny days with the children!
Numerous possibilities to discover fishing
Fishing is one of the oldest human activities. Since prehistoric times, people have sought to feed themselves by drawing resources from the seas, rivers and lakes. In the Annecy area, you can fish in the rivers and the lake.
But this sport requires a little practice to avoid going home empty-handed.
Pêch'Aventures allows you to learn while having fun. Beginners and experienced anglers alike can enjoy three private ponds spread over three 5,000 m² pools. You will find trout and carp.
The activities offered :
Fishing park: Fishing course for children and adults, fishing by the kilo, equipment and bait provided, from 4 years old. Sport fishing: For experienced fishermen, fixed price: half day or day. Release of 5 fish. No limit in fish catch. You must bring your own equipment.
Fishing lessons: reserved for beginners and on reservation, Saturday afternoons at 1.30 pm from June to August, fishing equipment and bait provided.
Direct retail sale: if you do not wish to fish, you can buy fresh fish on the spot.
Tasting: A moment to share, barbecue and picnic tables available.
Families: fishing by the kilo is also possible.
Birthday parties: Package for 10 kg of fish with 5 fishing rods available, cooking. There is no help to unhook the fish.
Practical information, access, prices and equipment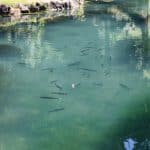 Pêch'Aventures is located 10 minutes from Annecy under the Pont de la Caille, and 20 minutes from Geneva in the commune of Cruseilles.Address: Le Moulin des Bains de la Caille, 74350 Cruseilles, France.Opening hours:
From 1 May to 31 May:Closed on Wednesday
From 1st June to 30th June:Open only on Saturdays and Sundays
From 1 July to 31 August:Closed on Mondays Tuesday to Friday from 1.30 pm to 6 pm Weekends from 9 am to 6 pm
From 1 September to 30 September: Closed on Wednesdays.
Children's games are also available: swing and giant games. A nice walk along the river is possible.