The famous Tamié Abbey, founded in the 12th century, is still home to some thirty monks who make an excellent cheese: Tamié. How to visit and discover this place?
A Cistercian monastery dedicated to hospitality
The monastery of Tamié was founded in 1132. At that time, several religious communities undertook to clear the Bauges massif: the Cistercians, the Carthusians and the Benedictines. The building was rebuilt at the end of the 17th century and has been occupied by Trappist monks since 1860.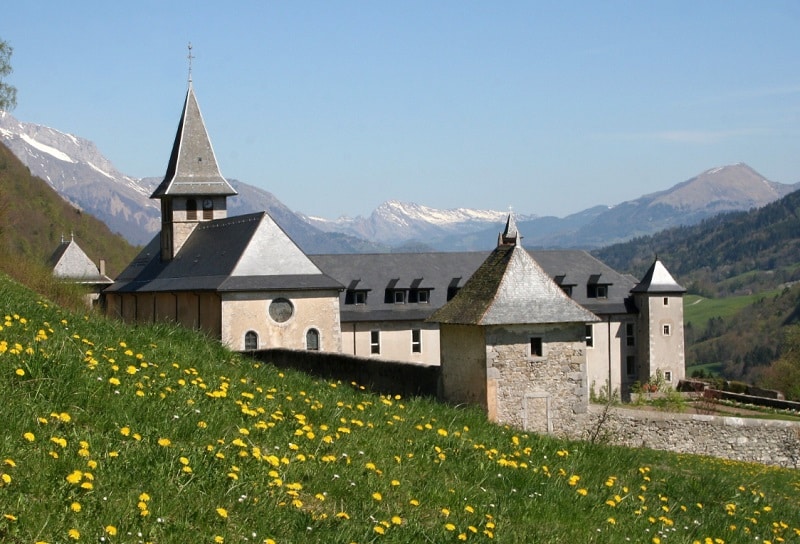 From its creation until today, this abbey has had a vocation to welcome visitors and offer them silence, meditation and listening for a few hours or days. It is not possible to visit the monastery, which is the living place of the community of monks who study, pray and work. The public can go to the church to pray and participate in one of the religious services of the day. The monastery has a guest house with 27 rooms to accommodate people wishing to make a spiritual retreat.
Starting from the car park, 300 metres before the monastery, the Centre d'Accueil Saint-Pierre de Tarentaise offers a 20-minute audiovisual presentation on the life of the monks. Admission is free.Opening hours: 9.30 a.m. to 12.30 p.m. and 1.30 p.m. to 6.30 p.m. (6 p.m. in winter) on weekdays and 11.45 a.m. to 1 p.m. and 2 p.m. to 6 p.m. on Sundays. There is a shop where you can buy books, religious objects and Tamié cheese.
Access: coming from Annecy, follow the road to Albertville, cross the town of Faverges, take the road to the Abbey which is indicated on the right, then at 9.7 km, the Abbey is on the right, it takes about 15 minutes from Faverges.Address: 1 242 Chemin du Monastère, 73200 Plancherine.
To complete this visit, you can go to the Fort de Tamié located above the pass to admire a unique panorama of Mont Blanc and the Combe de Savoie. The fort is open during the summer. A botanical trail allows you to discover many varieties of plants.
Tamié: a cheese to be tasted
The Tamié Abbey has a cheese factory that produces around 400 kg of cheese per day. This is the religious community's primary resource. Nearly half of the monks are involved in this activity, which includes collecting the milk, making and delivering the cheeses, and managing them. Tamié is a raw, whole cow's milk cheese, uncooked, pressed and saffron coloured. During the maturing process, it takes on a light white down.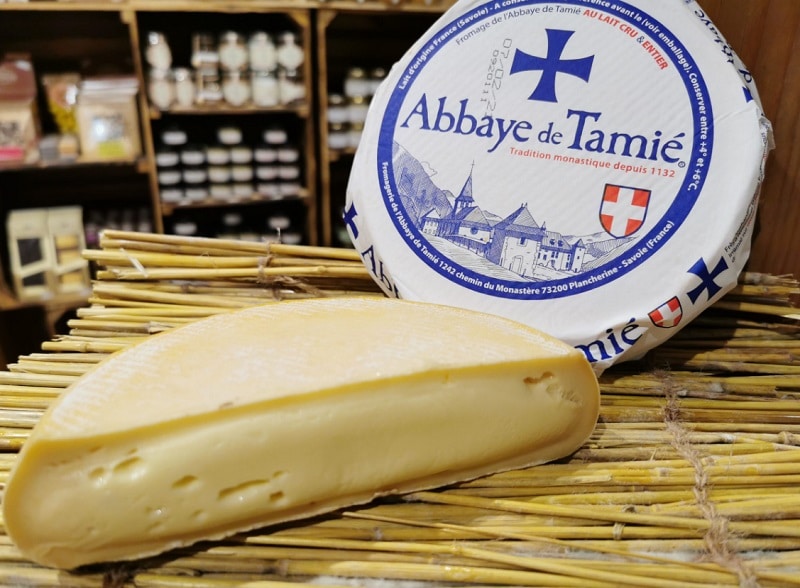 Tamié cheese is available either by the slice (1.6 kg cheese) or by the 600 g piece in creameries and supermarkets and in the abbey shop. The cheese can be eaten with good bread or cooked in recipes such as crozet gratin with fennel.