Switzerland offers jobs with much higher salaries than France. What are the most sought-after and best-paid jobs?
Understanding salaries in Switzerland
The median salary in Switzerland is €5,700 or 6,500 Swiss francs (noted as CHF in the following). It is therefore much higher than the average in the European Union. The unemployment rate is 2.6%, the lowest it has been for ten years and never exceeds 3%. But is Switzerland a real Eldorado for employees?
First of all, the cost of living is very high: food, housing, parking. It is therefore important to negotiate your starting salary accordingly. You have to take into account some important elements of the Swiss labour market:
There is no minimum wage like the Smic in France. A referendum to set the minimum wage at €3,300 was rejected by the population in 2014. However, some cantons have chosen to apply an hourly minimum wage such as the canton of Geneva (23 Swiss francs per hour) and the cantons of Neuchâtel and Jura (20 Swiss francs per hour). Negotiations between social partners called CCT (Conventions Collectives du Travail, they can provide for minimum wages. For example, the hotel and construction industries are concerned.
The annual remuneration includes thirteen salaries: twelve months and a thirteenth month in December.
The weekly working time is 41.7 hours compared to 35 hours in France, i.e. 6.7 hours more.
Health insurance is paid in full by the employee, which represents an average of €450 per month for basic insurance plus €120 for supplementary insurance and €150 for miscellaneous insurance.
The salary may also include bonuses or gratuities. These bonuses are paid at the end of the year on certain occasions such as Christmas. They are not compulsory.
Payroll taxes are lower in Switzerland, ranging from 10 to 15% of gross salary, compared to 23% in France.
As in France, tax is deducted at source. If you live in Switzerland, the tax rate depends on the canton in which you live. If you are a cross-border worker, in order not to pay tax twice in France and Switzerland, you will have to fill in a certificate of French tax residence for Franco-Swiss workers.
In Switzerland, there is a significant wage gap between men and women. According to figures from the Swiss Federal Statistical Office, women earn 20% less than men for the same job.
The salary level depends on the level of education, age, sector of activity and canton.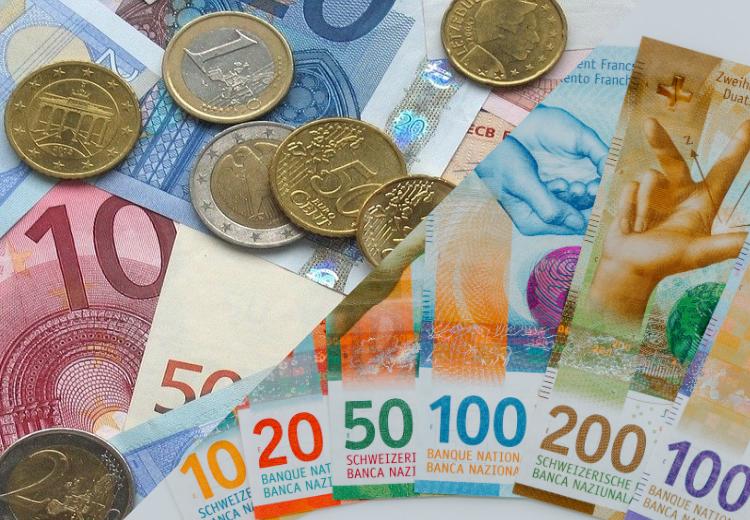 The best paid sectors of activity
To find out which jobs pay the highest salaries in the French-speaking part of Switzerland, you need to focus on the sectors of activity that have professions that are in high demand. The salaries below correspond to a full-time gross annual salary expressed in Swiss francs.
Commercial: the average salary is CHF 65,000. But sales people specialising in the chemical and parapharmaceutical sectors earn CHF 80,000. Vocational training, telecoms and transport pay their sales force CHF 68,000.
HGV drivers: this profession is particularly sought after by employers, especially in the canton of Vaud, with an average salary of CHF 64,950. Depending on the goods, remuneration can reach CHF 80,000 in chemicals and pharmaceuticals and CHF 70,000 in health, public administration and tourism.
Engineer: this specialisation is a guarantee for very good salaries with a median salary of CHF 97,000 which rises to CHF 145,000 in finance and banking, CHF 120,000 in marketing and machine building.
Project manager: this profession earns an average salary of CHF 100,000 gross per year in Switzerland, which is already considerable. However, if you move into IT, the figure rises to CHF 115,000 and CHF 140,000 for banks, insurance and trade.
It is clear that the highest salaries are paid in banking and insurance. Some popular IT specialities are in high demand, such as development. The chemical and pharmaceutical industries, which are leaders in exports, also pay very high salaries. It should be borne in mind that there are great disparities for the same job in the same sector and in several companies. The lowest salaries are found in the hotel and catering industry, construction and retail trade.
In Switzerland, there is a strong wage disparity between the cantons. The north-west (canton of Aargau, Basel-Stadt, Basel-Landschaft) and the Zurich region pay the highest wages. Wages in eastern Switzerland are the lowest in the country.
How to negotiate a salary increase?
If you want to earn more than the average salary for your position, you should ask for a salary increase. But in Switzerland, more than anywhere else, this is a process that requires following Swiss customs and traditions. Once employed, employees in Switzerland experience few salary increases. The average increase in 2018 was only 0.6%. In order to get a substantial salary increase, the following points should be followed:
Check beforehand the average salary for your branch and position, especially if the sector is covered by a CLA.
Approach your employer yourself with tact and flexibility because the question of money is quite taboo in both German and French-speaking Switzerland.
Showcase your skills without exaggerating them. Humility and discretion are highly valued qualities in Geneva.
Set yourself a precise objective for your future salary, both net and gross, and calculate the level of charges precisely.
Be aware of the dynamics of your company in order to make the application in a cycle of proven economic growth in your sector of activity.
During the interview, present three main arguments that justify your approach, taking care to start with the second argument, then the third and finally the first. This method allows you to enhance your value and maximise your chances of having your skills recognised with a significant salary in Swiss francs.
This approach can also be applied when recruiting to maximise your starting salary.
The top 10 most sought-after companies for employees
This ranking by an online recruitment portal does not indicate which companies pay the highest salaries in Switzerland, but it does indicate which companies have the best reputation in terms of employment and economic dynamism.
Migros
Nestlé
Patek Philippe
Glenmark
Cisco
City of Geneva
Manor
EPFL
Coop
Audemars Piguet
The 10 largest groups in Switzerland
This ranking allows us to understand the structure of the Swiss economy in terms of the sectors of activity of its largest companies, which are constantly looking for new profiles with high salaries and numerous benefits for their employees:
UBS (banking and finance)
Nestlé (food industry)
Credit Suisse (banking and finance)
Zurich Financial Service (insurance)
Novartis (pharmaceutical)
Roche Group (pharmaceuticals)
Swiss Reinsurance (insurance)
Adecco (temporary employment)
ABB (engineering)
Swiss Life (insurance)
To complete your information on the Swiss job market, we suggest you read our file How to work in Switzerland?