The Arcadium is a multi-purpose hall located within the sports stadium in place of the former Annecy exhibition hall.
A modern auditorium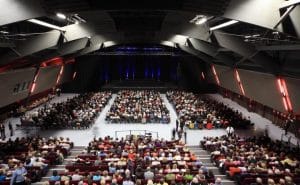 The Arcadium was built in 2008 and has been open to the public since the beginning of 2009. It allows our city to finally welcome large-scale events with great singers and music groups, great shows and everything related to the arts and culture.
The Arcadium has great potential for hosting the public. It can accommodate up to 3,400 people standing, 1,960 seated and 2,850 if you combine the standing and seated audiences. A hall that allows for a huge number of configurations and that finally brings amplified music to life in the city of Annecy.
The purpose of the hall is to host live shows throughout the year, with about forty dates a year. But it also hosts sports galas, conventions, trade shows and other large events thanks to the proximity of the three other halls (Boulodrome couvert, Allobroges and Olympiades).
A modular facility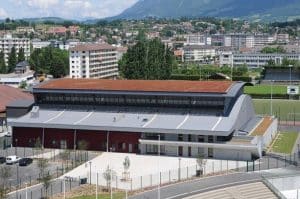 The Arcadium has very good infrastructures such as footbridges for the scenic installation, special and adapted access for people with reduced mobility with a lift to join the Olympiades hall or telescopic bleachers. This hall has also been very well thought out in terms of sound and therefore offers perfect acoustics, a major asset for concerts and musical performances!
Finally, the city of Annecy has not neglected the environment by planning to produce more than 10 megawatts per hour thanks to the installation of 106 m² of photovoltaic panels on the Arcadium's roof.
During the health crisis, this concert hall closed its doors. All concerts were cancelled or postponed. On 12 September 2021, the Arcadium reopened after 18 months of closure with a show by Fabien Olicard. Since then, David Halliday sang on 8 October 2021 and the group IAM will be in concert on 28 October 2021 and Gad Elmaleh will present his new stand-up show "D'Ailleurs" on 14 November 2021. The younger ones are not forgotten, they will be able to attend the Pat'Patrouille show "A la rescousse" on 16 February 2022.
The shows will be held in compliance with mandatory health standards: wearing a mask and a health pass.
The programme of shows varies from one day to the next, we suggest you consult the official agenda.
Photos of the Arcadium
Click on the photos to enlarge