Coworking is a new way of working in Annecy. What exactly is it and what are the advantages of coworking? This practice is developing strongly in Annecy. We offer you an overview of these new collaborative models in the Annecy area.
Why choose coworking?
This word corresponds to a new concept of work organisation. The French translation means "working together". Working together is already the case in the various companies in Annecy. But coworking brings an important nuance since it combinesautonomy and collaboration. It appeared in Berlin and then in the United States in the 1990s, and France has over 400 coworking spaces.
It is practised in dedicated places that can take different formats, ranging from a furnished café to the rental of offices. Coworking is organised in a collaborative space that brings together mobile or independent workers, start-ups, consultants and incubators. The participants develop their own activity in connection with the other coworkers, which makes it possible to create partnerships and new clients. The development of mobile work and the collaborative economy, and the power of digital tools explain this craze. We can also see that more and more companies are sending some of their employees to these spaces to avoid having to rent offices in certain cities but also to benefit from local contacts.
The values of coworking :
Sustainability: choosing eco-responsible spaces and reappropriating existing sites (former factories, former commercial premises).
Accessibility: the people present are there by choice, which is conducive to productivity.
Community: the numerous interactions, the helping hands, the shared meals forge a group spirit.
Cooperation is a key value, it allows skills to be shared and enriched, rather than compartmentalised as in a traditional company.
The collaborative tools of coworking :
Broadband internet access, printers and connected desks.
Instant messaging with thematic threads like Slack or Skype.
Project management tools with task lists like Trello.
Online office solutions.
Secure file storage.
Mind mapping solutions to present projects in visual form.
Coworking therefore has many assets to develop in Annecy and support innovative activities.
Coworking spaces in Annecy
Annecy is a city where professional activity in the digital sector is highly developed, particularly in the moving image and web sectors. There are several coworking spaces with their own specificities:
Axalp, the space in the heart of Annecy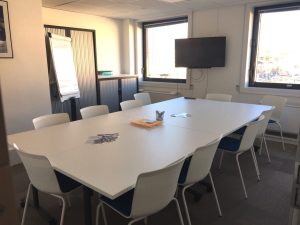 Axalp welcomes you in the heart of Annecy, in its Espace Mont-Blanc. On site, you will find private offices, a fully equipped meeting room and a coworking space.
Large windows make these spaces brighter. So you can work in peace and quiet while benefiting from natural light.
Book according to your needs: by the hour, half-day, day or month.
Address: 1, place Marie Curie, 74 000 AnnecyTel: 04 50 66 11 06Site: www.axalp.fr
Other addresses
La Cordée: a real place to live and work where you can meet a diverse and cheerful community of workers! The little extra: unlimited coffee and tea, and snacks every day for a friendly atmosphere! Address: 4 rue Saint François de Sales, 74000 Annecy
The 7 th Element: a very nice decoration, a simple payment by the hour, the rest is included. Address : 7 Rue de Narvik, 74000 Annecy
La Jardinerie Coworking: private cabin for one or two people, collaborative space, meeting rooms. Address: 5 Rue de l'Industrie, 74000 Annecy
Work Up: Well located near Espace 55, open space or closed offices, free parking and restaurant on site. Address : 5 Rue de l'Espace 55, 74330 Poisy
Pépinière Galileo: This public entrepreneurial centre supported by Greater Annecy offers offices, technical facilities and meeting rooms. The project leaders must be industry or innovation oriented.Address: 178 Route de Cran-Gevrier, 74650 Chavanod
Address of coworking sites in Haute-Savoie
Outside Annecy, you can also take advantage of other coworking spaces in the department:
Entrelac – Coworking Annemasse: 15 Av. Émile Zola, 74100 Annemasse
Coworkimmo Annemasse: 985 Rte des Bois Enclos, 74100 Juvigny
Open WOrk: 281 Rte des Marais, 74250 Fillinges
L'esp@ce: 73 Rue de Silence, 74800 La Roche-sur-Foron
L'Echappée: 157 Rue Pertuiset, 74130 Bonneville
Site économique des Lacs – Nuna Développement: 320 Rue des Sorbiers, 74300 Thyez
Le Pêle Coworking: 97 Rte de l'Étale, 74220 La Clusaz