The ski resort of La Clusaz is located in the Aravis massif, only 40 minutes from Annecy. Very popular with the people of Annecy, the village has many accommodation options. We present them to you in order to help you make your choice for your next stay.
Hotels with the best quality/price ratio
It is possible to find very good value hotels in La Clusaz. And to get the best value for your money, don't hesitate to go on holiday in the resort outside the school holidays.
La Ferme
La Ferme is a 2-star hotel located at 1 078 route des Aravis. All rooms have a beautiful view of the mountain and some rooms also have a balcony. The hotel's restaurant serves traditional cuisine.
Ratesstart at 122€ per night.
Le Chamois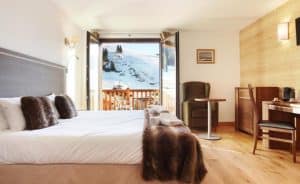 The hotel Le Chamois is located in Les Granges, only 50 metres from the first ski lift. The heart of the village is a 5-minute walk away. An outdoor swimming pool is available to guests.
From 104€ per night.
U'Fredy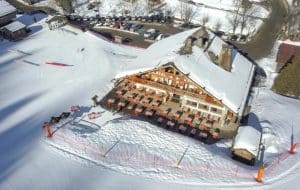 The hotel restaurant U'Fredy is located at the foot of the slopes of La Clusaz, at 2 878 route de l'Étale. Some rooms have a balcony with a view of the Aravis mountain range. Free private parking is provided for guests.
From 78€ per night.
Alp'Hotel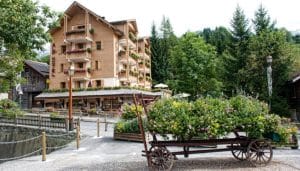 The Alp'Hotel is a 3-star hotel located at 192 route du Col des Aravis. The hotel is modern, but has a typical Savoyard architecture and decoration. The Crêt du Merle chairlift is only 200 metres away.
From 83€ per night.
Les Sapins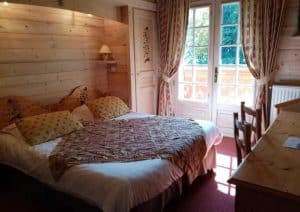 Les Sapins is located at 105 chemin des Riffroids. This hotel, whose style is reminiscent of Savoyard chalets, offers a cuisine with many local culinary specialities. The first ski lifts are only 100 metres from the hotel.
From 90€ per night.
L'Alpage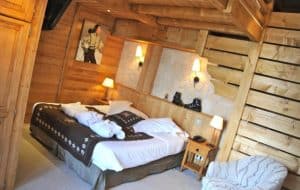 L'Alpage is located at 1 872 route du col de la Croix Fry. All rooms offer a beautiful view of the mountains and the slopes are in the direct vicinity. Shuttle services can be provided from theairport.
From 143€ per night.
The 5* hotels in La Clusaz
La Clusaz is also a place of luxury hotels. The village caters for all budgets. Some tourist accommodations have 5 stars. We suggest you to discover two of them, particularly famous.
Les Cimes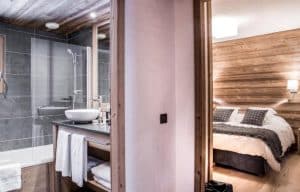 Les Cimes is a 5-star establishment located in the centre of the village of La Clusaz, at 46 route de la Grallière. The accommodation is only 150 metres from the ski slopes. A wellness centre is available to guests.
Pricesstart at €324 per night.
Au Cœur du Village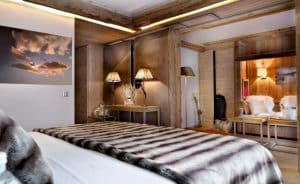 The 5-star hotel Au Cœur du Village is located at 26 montée du Château. There are 2 gourmet restaurants to enjoy. The ski lifts are less than 200 metres away.
From 321€ per night.
La Clusaz Youth Hostel
The resort of La Clusaz also caters for those on a budget. Young people, such as students, will particularly appreciate the youth hostel, which offers attractive rates.
HI La Clusaz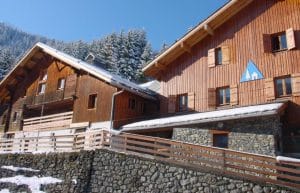 HI Youth Hostel is located at 1007 route du col de la Croix Fry. It is located on the ski slopes at an altitude of 1250 metres, so you can put on your skis straight away. A shared kitchen is available for guests.
From 59€ per night.
Flat rentals in the heart of La Clusaz
Some people prefer to rent a flat, in order to have more autonomy. This is also possible in the resort of La Clusaz. Here are some examples of rentals for your next ski holiday.
Duplex with view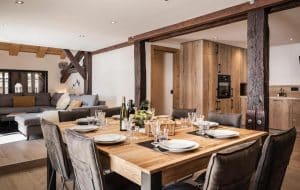 At 20 passage du Mont Blanc there is a nice duplex with a view of the surrounding mountains. The accommodation can sleep up to 10 people. The Crêt du Merle chairlift is less than 100 metres away.
From 385€ per night.
3-star flat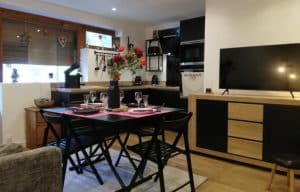 This 35 m² flat for two is located at 85 route de l'École. Towels and bed linen are provided at an additional cost. The flat has a terrace.
From €101 per night.
Christmas Rose 145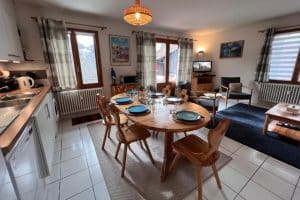 Rose de Noël is located at 145 chemin des Verriers. The flat is located in a quiet area and you can enjoy its terrace. With a surface area of 52 m², the flat can accommodate up to 6 people. Towels and bathroom linen are provided at an additional cost.
From 174€ per night.
Alcyon A23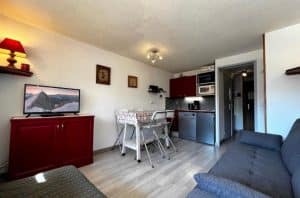 Alcyon A23 is located at 87 Traverse des Domaines. It sleeps 4 people and private parking is provided free of charge. The ski lifts are less than 300 metres from the flat.
From 130€ per night.
The most beautiful chalets in the village
Renting means renting a chalet. For groups of friends or large families, it can be interesting to rent a whole chalet. We suggest you discover four of them located at various points in the village of La Clusaz.
The 1791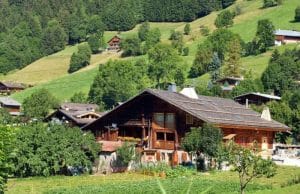 This magnificent traditional chalet is 60 m² and is located near the ski school. It has a free private car park. It is located in impasse du Petit Nant. The view of the mountains is worth a visit.
From 136€ per night.
L'Inarpa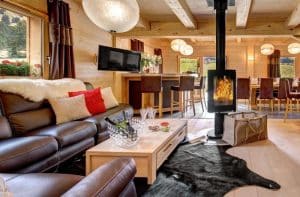 This accommodation is located on the road from La Clusaz to Les Confins, at 3646 route des Confins. It allows ski access to the ski area. Facilities include: parking, lounge area, fireplace, cable TV. The jacuzzi allows you to enjoy the view of the mountains.
From 341€ per night.
Le Lodge Rodzina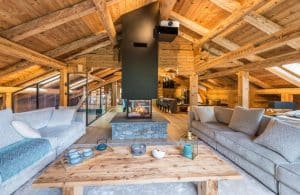 Le Lodge Rodzina is a chalet located on the Aravis pass road and can accommodate up to 14 people. It has a jacuzzi, 6 bedrooms and 5 bathrooms. You will have the chance to stay here without feeling like you are stepping on your own toes.
From €1,200 per night.
Le Coup de Cœur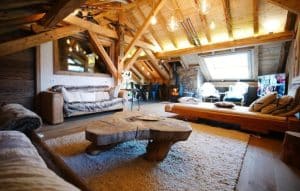 The Coup de Cœur is located at 2300 chemin des Cudres. With a capacity of 9 people, it is less than 500 metres from the ski lifts. It has a surface area of 250 m² and 5 bedrooms.
Pricesstart at €895 per night.
Guest houses
Guest houses and rooms are an alternative to hotels. More convivial, they allow you to meet new people and to exchange more fully with the owners of the place. Here are some of them in La Clusaz.
Les Rhodos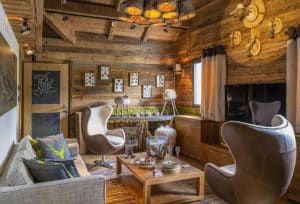 Les Rhodos is a bed and breakfast located at the Aravis pass, in the commune of La Clusaz. The Étale ski lifts are 2.5 km from the accommodation. Guests can take advantage of a shuttle service from the airport.
From 113€ per night.
Le Barna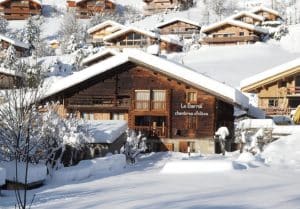 Le Barna is located at 71 impasse du Petit Nant, only 6 minutes by car from the tourist office. The chalet has 5 rooms. Private parking is also available for guests. You can ski to the slopes.
From 90€ per night.
La Trace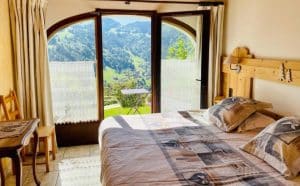 The bed and breakfast La Trace is located at 779 route du Crêt du Merle. The slopes are directly accessible from the accommodation. In the morning, you can have breakfast in the common room.
From 92€ per night.