This church, located in the centre ofAnnecy's Old Town, is remarkable for its dome and its golden statue of the Virgin Mary. Discover its history and how to visit it.
A little history
Although not all accounts are the same, the church of Notre-Dame de Liesse is said to have been founded in the 14th century on the orders of Amédée III, Count of Geneva. It is said to have been built in place of a chapel in order to create a tomb worthy of the dynasty of Amédée III. Today, Notre-Dame de Liesse houses their graves. The marriage of Philippe de Savoie-Nemours and Charlotte d'Orléans in 1530 made it possible to finance the construction of the large bell tower. The Holy Shroud was exhibited in July 1566.
The church had a choir in front of the building. It was destroyed during the French Revolution, before being rebuilt between 1846 and 1851. It is now the Place Notre-Dame with a beautiful and imposing fountain with obelisk, lions and turtles. This square used to house the market, which was moved to rue Sainte Claire.
The reconstruction of the church of Notre-Dame de Liesse by François Justin reversed its orientation. The influence of the Kingdom of Sardinia is reflected in the presence of the neoclassical style, which was inspired by Roman antiquity. This is the case for the exterior architecture, but also for the interior decorations. This style is called Sardinian because it was born in the kingdom of Sardinia, of which the Annecy region was part before Savoy was attached to France in 1860.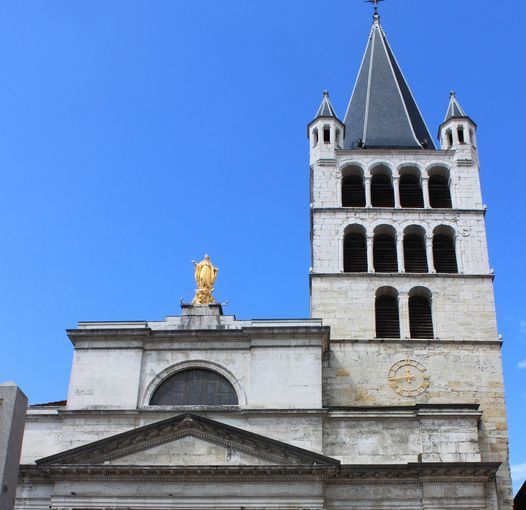 Discover the church of Notre-Dame de Liesse
It is located near the Saint Jean well, perpendicular to the rue Royale in the direction of the Old Town. If you continue on rue Filaterie, you can visit the Old Prisons of Annecy, installed on a rocky islet on the river Thiou. The central dome, renovated in 2007, can be admired by walking around the church in the Jardins de l'évêché.
The stained glass windows tell the story of the church. The biggest bell is a 5 ton drone called "La salésienne".
Visits can be made freely or by guided tours. Temporary exhibitions in the form of guided tours are regularly offered, such as the "Pietà" exhibition devoted to the discovery of the different figures of the Madonna in the city of Annecy.