You want to move to Annecy. Whether it is a choice of living environment or the result of a professional transfer, you will have to choose between renting or buying a property. You will find below an analysis of the property market in the old part of the town, with a view to buying your main residence.
A favourable national context for buying a property
Financial returns and interest rates
Becoming the owner of one's main residence is a dream for many French people. This choice seems judicious because it allows one to make forced savings and build up a real estate portfolio over the long term. In addition, financial returns are very low and interest ratesare low. These elements support the choice to become a homeowner. It is therefore interesting toinvest in real estate in Annecy.
Making a property profitable
Recent studies have shown that the purchase of a 70 m² property pays for itself on average after three years. This means that after three years of ownership, it is better to buy than to rent. This observation should be put into perspective, as it is a national average. For the so-called "expensive" cities, the duration increases: 7.5 years in Lyon and 9 years in Paris. Annecy is clearly part of this pattern; it takes a few more years to make a profit on the purchase.
Annecy, a quality of life that is reflected in property prices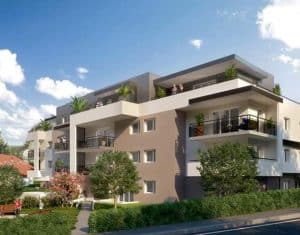 Annecy has a population of 225,000 and a very dynamic economy. The geographical location is excellent. The town is on the shores of Lake Annecy, at the foot of beautiful mountains, an hour's drive from the ski resorts and 30 minutes from Geneva on the motorway.
In January 2020, the JDD published a ranking based on 182 criteria to determine the best city to live in. The city of Annecy came in first place.
These assets make it a very attractive area, and therefore a high demand area for real estate. This explains the high price level of properties for purchase. However, investing in real estate is very profitable over time.
The evolution of property prices in Annecy
Another element to take into account is the evolution of property prices in Annecy over time. The Annecy property market is largely bullish over the long and medium term. It is therefore an investment with little risk. In the short term, prices have been stable for two years. In Annecy, we cannot talk about a lasting fall in property prices, but rather periods of slight price erosion and consolidation of the property market. Property prices in 2022 were still largely up.
Price map by property sector in Annecy
Prices by sector for flats
Prices are very different from one sector to another. It is essential to know this map of sectors before visiting properties for sale.
The famous golden triangle, between Galeries Lafayettes, Avenue d'Albigny and Bonlieu is the most expensive. The average price per m² is around €5,000.
The historic sector including the pedestrian cross (rue Royale and rue Carnot) as well as the Old Town of Annecy is almost at the same price level: €4,800 per m².
The area around Place des Romains and Avenue de Cran offers intermediate price levels of between €2,700 and €4,100 per sq. m. For more affordable prices, you need to move further away from the town centre.
To the south, in the Balmettes district, prices are €3,400 per sq. m. The two previous sectors are recommended for first-time buyers. Close to the city centre, they are much more affordable.
To the north, on Avenue de Genève, in the Novel district, prices are around €3,000 per m².
Finally, the sector outside the Annecy ring road is priced between 2,000 and 2,700 € per m². This sector includes the Teppes district, the Parc des Sports district and the Avenue du Rhône district.
Prices per sector for houses
The prices below are averages, and the differences are often significant depending on the condition of the property and the surface area of the land offered.
Annecy: Town houses are rare and budgets often exceed one million euros.
Annecy-le-Vieux: This is the most sought-after commune, with prices of around €4,600 per m². Large plots of land are highly sought after, with prices often exceeding €6,000 per m².
Seynod: The price range is higher, depending on the condition of the property, it is necessary to count between 3 500 and 4 200 € the m².
Cran-Gévrier: Prices are more reasonable: between 3,000 and 3,900 per m².
Around Lake Annecy, the east bank is the most sought-after, but the west bank is experiencing a good development with new quality programmes.
The Figaro ranking
A ranking of cities drawn up by Le Figaro in December 2020 places Annecy in first place with Aix-en-Provence and Toulouse, as a city in which to invest in old property. This ranking concerns only cities with more than 100,000 inhabitants. Lyon is in fourth place. This result confirms the capital of Haute-Savoie as a safe bet for investors looking for a good rental yield. It is also a guarantee for first-time buyers that their purchase will increase in value over time. This position is reinforced by the quality of life in Annecy, a strong demand, a tight property market and the proximity of Switzerland. Many people from Annecy choose to work in Switzerland.
The level of property prices in Annecy, depending on the district, follows the same geographical trend if you are considering renting your home. More information in our file: Renting a property in Annecy.