The Swan Island is a small island on Lake Annecy. To discover it, you have to walk along the banks of the lake. It is close to many very touristy places.
Admire the Swan Island
In the evening, at nightfall, this small island is illuminated by two large fountains placed next to it in Lake Annecy. It is located at the end of the Jardins de l'Europe, which is a large wooded natural park shaded in summer. You have to go to the Berthollet statue, on the edge of the lake, next to the sundial to get as close as possible to the island.
Numerous benches facing the lake will allow you to appreciate the peacefulness of the place. The Swan Island is not open to the public, its surface is made up of trees and bushes.
During the summer, this island is used as a support for the Annecy Paysages Festival, to showcase contemporary artworks.
Many birds use it for nesting and breeding. If you take a walk on the Pâquier, which is a large lawn on the shores of the lake, you will see the Ile des Cygnes. To see it up close, you can rent a pedal boat or a motorboat nearby and swim.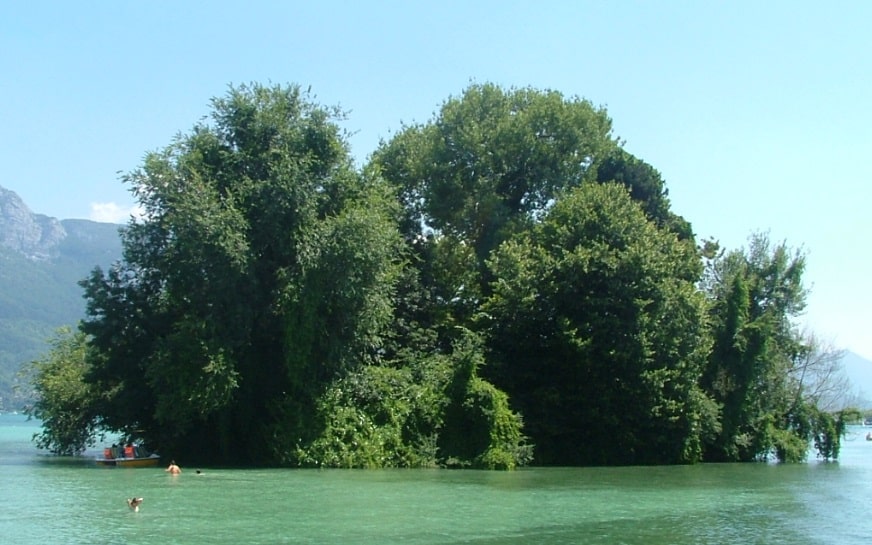 The history of the Ile des Cygnes
To make the river Thiou more easily navigable, it was in the past regularly drained. It was the product of this drainage that was used in 1854 to artificially create the Île des Cygnes. As soon as it was created, it was planted with large trees and protected from the water by a low wall that runs around it. It is the only island in Lake Annecy.
The origin of its name: the city of Geneva in 1857 and the House of Savoy in 1858 offered the city of Annecy the first two pairs of swans. The birds initially nested on the island and the people of Annecy have called it that ever since.