Every year, at the end of August, Grand Bornand puts itself in the children's mood with Au Bonheur des Mômes. The festival, which began in 1992, is now a must-see and is even internationally recognised.
The Au Bonheur des Mômes festival
Au Bonheur des Mômes is a festival for young people which takes place every year in Le Grand Bornand, at the end of August. Created in 1992, it celebrated its 30th anniversary in 2022 and now attracts more than 90,000 festival-goers each year. A true reference in Europe, the event is an opportunity for children to discover live entertainment.
In a few figures, Au Bonheur des Mômes is :
588 performances
280 volunteers
300 programmers
26 venues
Festive atmosphere in Grand Bornand
During Au Bonheur des Mômes, the whole village of Grand Bornand is transformed. Entirely decorated, the village is also closed to vehicles. For a week, the atmosphere is festive. Between unique creations proposed by companies that no longer need to be introduced and a springboard for new talents, children never have time to get bored. And neither do their parents!
On the festival's menu, shows, nature discovery or artistic workshops, reading time or play activities. All this from a very young age.
Le Grand Bornand TV
Accommodation for Au Bonheur des Mômes
There are many tourist accommodations in Le Grand Bornand. For one night or for several days, you are bound to find the right accommodation for you.
We also propose a selection of hotels to discover in the Aravis resort. They will allow you to move around as you wish in Grand Bornand, whereas cars are forbidden in the village during the festival Au Bonheur des Mômes.
Pierre & Anna's Farms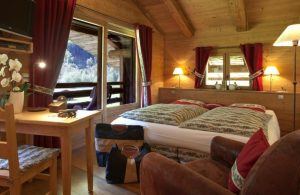 Les Fermes de Pierre & Anna is an accommodation on the Les Plans side of the village. It benefits from direct access to the cross-country ski slopes and the Grand Bornand golf course. The hotel combines chalet style and contemporary design.
From 144€ per night.
Les Saytels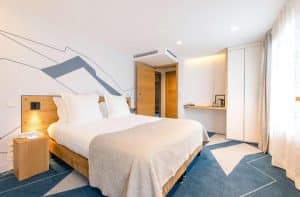 Chalet les Saytels is located at 33 route de la vallée du Bouchet, 350 metres from the ski lifts. The hotel offers guests an indoor swimming pool, open all year round.
From 115€ per night.
Le Vermont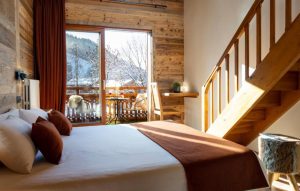 Le Vermont is a hotel located at 607 route de la vallée du Bouchet, less than 100 metres from the heart of the village and the ski lifts. A gym and a ski room are available for guests.
From 105€ per night.
La Pointe Percée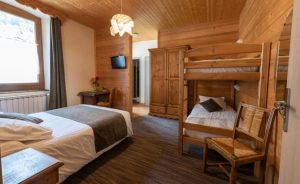 The hotel La Pointe Percée is located in the city centre. Its Savoyard-style decoration and rooms with a view of the Aravis mountains are particularly appreciated.
From 78€ per night.
Practical information about the event
If you are going to the Au Bonheur des Mômes festival, some of the practical information below will certainly be useful.
How to get to Au Bonheur des Mômes
There are several options for getting to the festival in Grand Bornand. First of all, take the car. There are 4 free car parks near the village and the events. As a reminder, the centre is pedestrianised during the 6 days of the festival. And for those who still have room in their car, don't hesitate to visit the carpooling website in Auvergne-Rhône-Alpes, movici.com.
However, we recommend that you opt for public transport to avoid traffic jams. From Annecy, you can take bus lines 62 and 63. In order to facilitate your travel, you can book your ticket directly on the website of the Grand-Bornand Tourist Office. There are also shuttle buses between Le Grand Bornand and Chinaillon.
Once on site
Once you are there, you can enjoy the festival to the full. For families with young children, you should know that there will be pram parks to guarantee the serenity of the festival-goers. There will also be catering facilities in the resort of Grand Bornand, in addition to the establishments already present throughout the year.
Finally, you should know that people with disabilities will be able to attend the Au Bonheur des Mômes festival. A free festival pass is available on presentation of proof. It is also possible to contact the organisers in order to prepare your visit at best, at 04.50.77.82.82.
The 2023 edition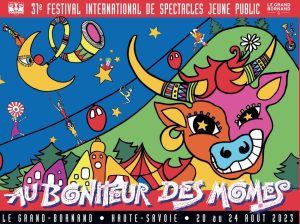 The 2023 edition of the Au Bonheur des Mômes festival will be held from 20 to 25 August. A great opportunity to end the school holidays in style without going too far from Annecy.
Although the programme is not yet known, children aged 8 to 12 can already give their opinion on the 5 novels selected for the 2023 edition.
The "Vache qui Lit" prize will be awarded on Wednesday 23 August, under the "Tente à Lire". The prize-giving ceremony will take place on the same day at 5pm on the Grenette stage.