The Angon waterfall is a remarkable site above Lake Annecy. This hike, which can be enjoyed by the whole family, has the advantage of being shaded in summer and refreshing with the projection of droplets from the waterfall.
Access to the waterfall
This beautiful hike is relatively easy. It allows you to discover a waterfall 60 metres high, much appreciated by canyoning enthusiasts. In terms of rivers, the Nant du Grenant and the Nant d'Oy meet just before the waterfall. They respectively take their sources on the slopes of Tournette and on the way down from Lanfonnet.
From Annecy, you go to Talloires and then 1 kilometre later, you turn left towards Angon. As you go up for 3 kilometres, the start of the path is on the right at the villa N°234. Parking is quite limited, as there is little room. Once parked, you have to retrace your steps to take the start of the Angon waterfall hike, indicated by a sign.
The itinerary of the walk
The first part is in the forest, the slope is moderate but constant until you reach a flat area where you can admire Lake Annecy and the Duingt peninsula. Then it is the second part of the itinerary, on the side of the cliff, which leads to a path equipped with metal protection barriers.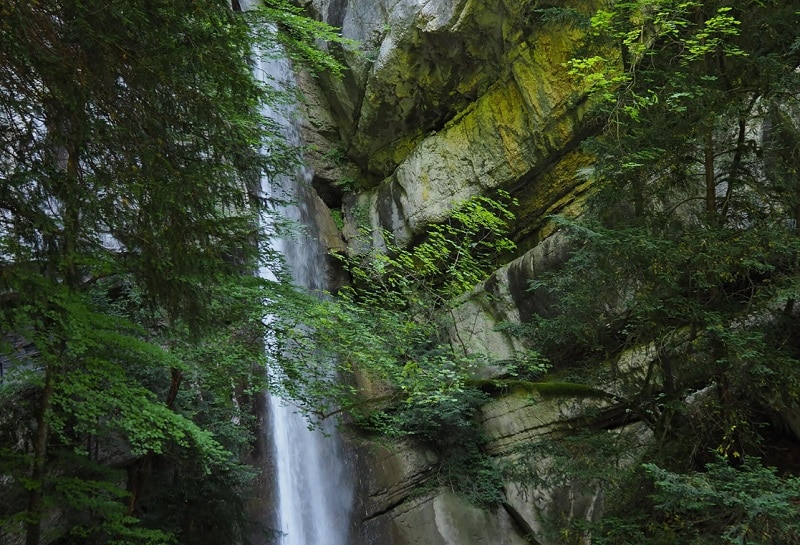 Finally, you will cross a short area equipped with chains to pass under the magnificent 60-metre high Angon waterfall.
The return journey follows the same route, but when you reach the metal barrier, you can turn right to reach the Pont de Fées, which spans the waterfall.
By taking your car back, in summer, you will have the possibility of going to bathe on one of the most beautiful beaches of the lake of Annecy: the beach of Angon.
Practical information
It is essential to hold children by the hand. Avoid taking this walk in wet weather, as the ground can be slippery. Good walking shoes are required. The tour lasts one hour.
You can also take an alternative route when the path forks before entering the gorge. You can see the bridge of fairies and giant potholes. This waterfall tour can also be done as a loop in 2.5 hours, the level is higher.
The best season is spring, when the snow melts, the waterfall is imposing. In winter, it is sometimes frozen. In summer, this hike is very pleasant with the part in the forest and the refreshing humidity near the waterfall.
The Cascade d'Angon hike in video