This magnificent Gothic cathedral is a must-see during your holiday in Annecy. How to visit it? What is its history?
A church transformed into a cathedral over time
At the beginning, it was a former chapel of the Cordeliers convent that was built between 1535 and 1538 at the instigation of Pierre Lambert, a churchman. In 1538, the city of Geneva went over to the Protestant reformation and the members of the Catholic Church were exiled to Annecy. The church of Saint Pierre then welcomed the bishop of Geneva.
During the French Revolution, the building was desecrated and used as a temple to the goddess Reason. In 1822, the church became the cathedral of the diocese of Annecy.
An architectural style between Gothic and Renaissance
At first glance, the cathedral is in classical Gothic style. But as you walk around, you see that the façade that was built last is much softer, which shows the Italian influence during the Renaissance. This façade has three levels with vertical pilasters. The gothic elements can be seen in the gothic rose and two pointed arch bays. Above the main door you can see the arms of the Lambert family. This family financed the construction of the building and had a house opposite the cathedral.
If you attend a service, you can appreciate the power of the listed organ, which weighs several tons. It was installed in 1842. The small bell tower has two bells, the largest of which weighs 3 tons. They are the work of the Paccard foundry, which is still active and whose bell museum can be visited in Sévrier, not far from Annecy.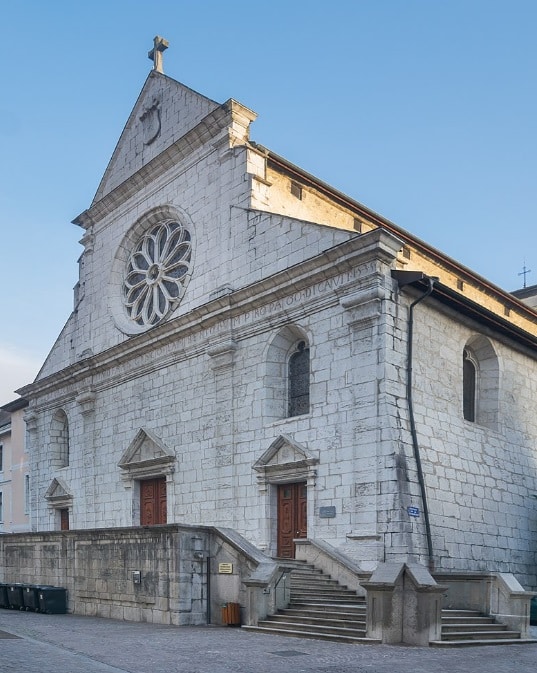 Visit the cathedral of Saint Pierre in Annecy
During your visit, the cathedral being surrounded by buildings quite close to it, it is difficult to see the whole. We advise you to go around to the right to access a square with a forum that offers a clearer view of the building. From the Rue Royale you can see a canal that runs under the cathedral. Concerts of classical baroque music are frequently given in the cathedral and cost between €12 and €22.
To visit Saint-Pierre d'Annecy cathedral, you have to take the pedestrian street Jean-Jacques Rousseau, which is a stone's throw from the Vieilles Prisons, which we also recommend you visit. Following the rue Jean-Jacques Rousseau, you can admire the church of Saint Maurice which has a very different architectural style.
You can also opt for guided tours of Annecy which provide precise information with adapted itineraries.