The church of Saint Maurice is the oldest church in Annecy. It is located opposite the Annecy Town Hall, a building constructed during the Sardinian period. This church is worth a visit.
A little history
The church of Saint Maurice is close to the church of Saint François, on the banks of the Thiou, two hundred metres from the Old Prisons. It is mentioned as early as the 12th century and is represented on old engravings. In 1422, the church of Saint Maurice was a simple Dominican convent. Gradually, from extension to extension, it reached its present form. During the French Revolution, its bell tower was destroyed. The architectural style is described as Savoyard flamboyant. In February 1552, the painter Catherin Ducrest was commissioned to create the stained glass windows of the church of Saint-Maurice.
The last restoration dates back a few years and was completed in 2016. It allowed the church to regain the light colour of the original facades, as well as its sound and its murals. New liturgical furniture and chandeliers have been created. The church was listed as a Historic Monument in 1943 and then classified in 1957.
A sober and pure church
The building consists of a choir with two bays and a nave with four bays. The bell tower is located near the choir. Limestone, sandstone and molasse were used for its construction.
Inside, you can admire the beautiful carved choir from 1715. The stained glass windows illuminate the church up to the Christ on the Cross. The bell tower consists of four imposing bells, of which only three are used. The width of the main nave corresponds to the Dominican style. It can accommodate many worshippers during services. Finally, the 15th century funerary painting representing the tomb of Philibert de Monthoux, who was the adviser to the Dukes of Savoy, should not be missed.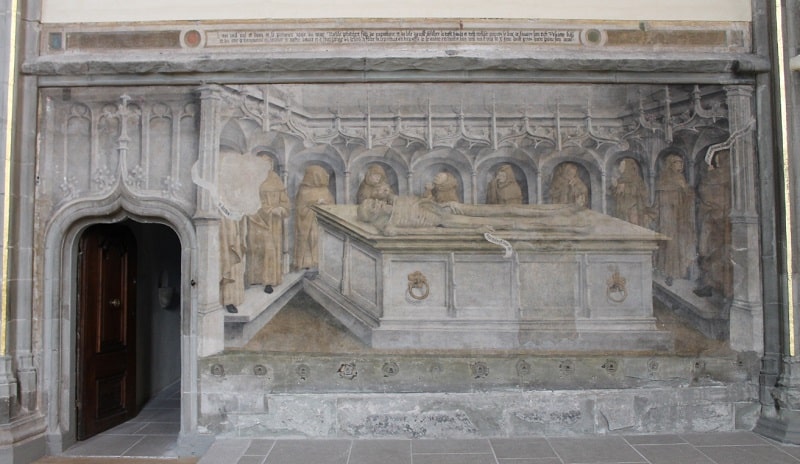 The church of Saint Maurice in Annecy is now part of the parish of Sainte-Jeanne de Chantal. 200 metres away, you can visit the cathedral of Saint Pierre by following the rue Jean-Jacques Rousseau
Video visit of the church of Saint Maurice in Annecy