The Hôtel de Sales is a historical monument in Annecy. It was the residence of the Princes of Savoy and was also a bank that produced money. How to discover it?
The history of the Hôtel de Sales in Annecy
This is the only private mansion in Annecy. Built between 1688 and 1690, it was the residence of the princes of the House of Savoy who lived there when they came to Annecy. As is often the case, the Hôtel de Sales was confiscated during the French Revolution.
Thereafter, it became an administrative building of the Haute-Savoie department and also a correctional court that dispensed justice in Annecy. Then, and this is quite rare, it is the headquarters of the Bank of Savoy and as such, it produces coins and banknotes after 1815.
When Savoie became part of France in 1860, its role as Banque de Savoie was abolished.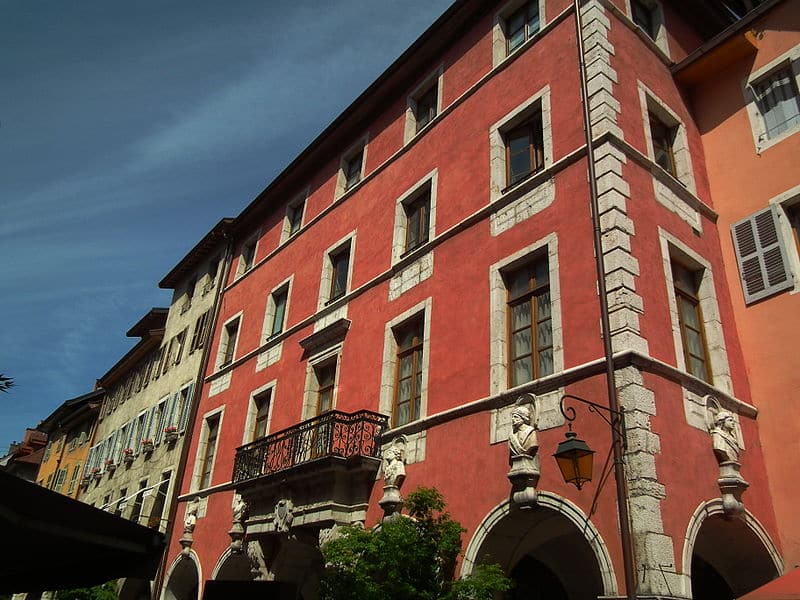 Discover the Hôtel de Sales
This remarkable mansion is located on the Rue du Pâquier in the extension of the Rue Royale down to the lake. It has 3 floors and above its five arcades, you can admire four sculpted busts representing the four seasons. This theme was very popular at the end of the 17th century. For the summer, ears of wheat are represented, for the spring, flowers, for the autumn, vines and for the winter, an elderly person in warm clothes.
The Hôtel de Salles cannot be visited, but the guided tours of Annecy will show you the building from the pedestrian zone. It has been a listed building since 1930. Continuing towards the city, you can walk along the Rue Royale with its beautiful clothing and shoe shops. On the other side of the street, it is only about 100 metres to the Pâquier via the pedestrian subway. You can see the site of the old city wall of Annecy.